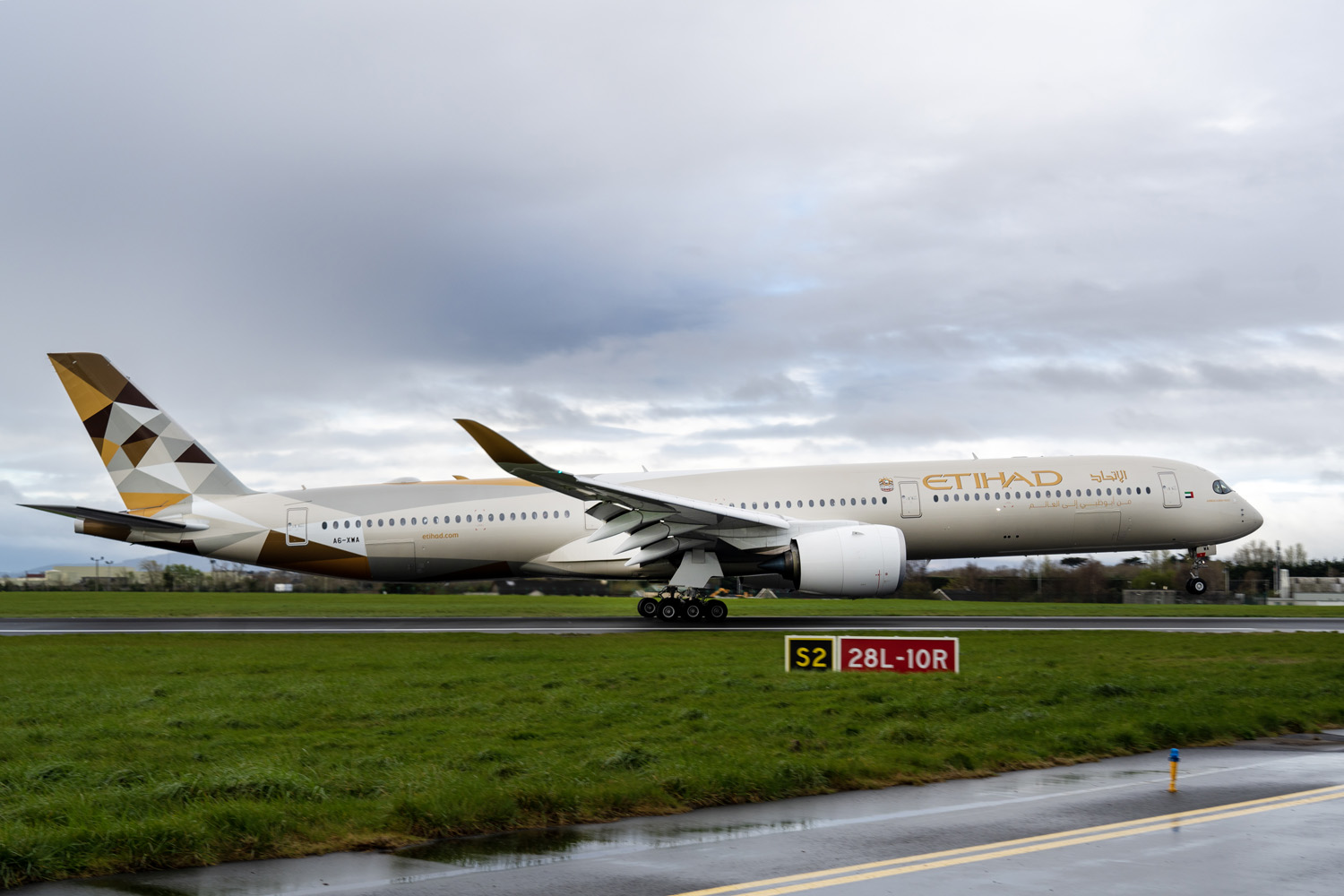 Etihad has started flying its new Airbus A350, one of the most innovative and sustainable planes in the world, on its Dublin to Abu Dhabi service.

The Etihad A350, which arrived into Dublin Airport for the first time this week, is available on select flights from Dublin to Abu Dhabi this summer, providing a higher number of both Business and Economy capacity for passengers.

The new 371-seat A350 can carry almost one third more passengers than the previous B787-9 aircraft which serviced the Dublin to Abu Dhabi route.
The A350 features Etihad's latest on-board cabin experience, including a new elevated Business class that is home to 44 Business Studios with sliding doors that provide a high level of privacy to each suite. Every seat faces forward with direct aisle access. The Business class seat, with a width of over 20", converts into a fully-flat bed of 79" in length, and features ample storage for convenience.
Etihad's spacious Economy cabin is configured with 327 smart seats in a 3-3-3 arrangement, of which 45 'Economy Space' seats have been enhanced with an additional four inches of legroom. The Crystal Cabin Award-winning seats were selected after extensive customer trials by Etihad and based on their comfort and sustainability credentials.
Vincent Harrison, Dublin Airport Managing Director said:
"We are very happy to welcome Etihad's A350 aircraft to Dublin Airport. It's testament to the success and popularity of the Dublin-Abu Dhabi route that Etihad has made the decision to fly its larger A350 this summer. The A350 not only brings a new level of comfort for Irish passengers, but it is also highly efficient in terms of fuel consumption and reduced CO2 emissions."
Since its inaugural flight to Abu Dhabi back in 2007, Etihad's direct service from Dublin Airport has been a gateway for Irish travellers to explore hundreds of international destinations including Abu Dhabi itself, as well as Sydney, Melbourne, Bangkok, the Maldives, and the Seychelles.
Dublin Airport will continue to work closely with Etihad to promote its services from Dublin".
Etihad Airways fly direct from Dublin to Abu Dhabi daily. For more information on Etihad services and destinations, visit their website HERE.