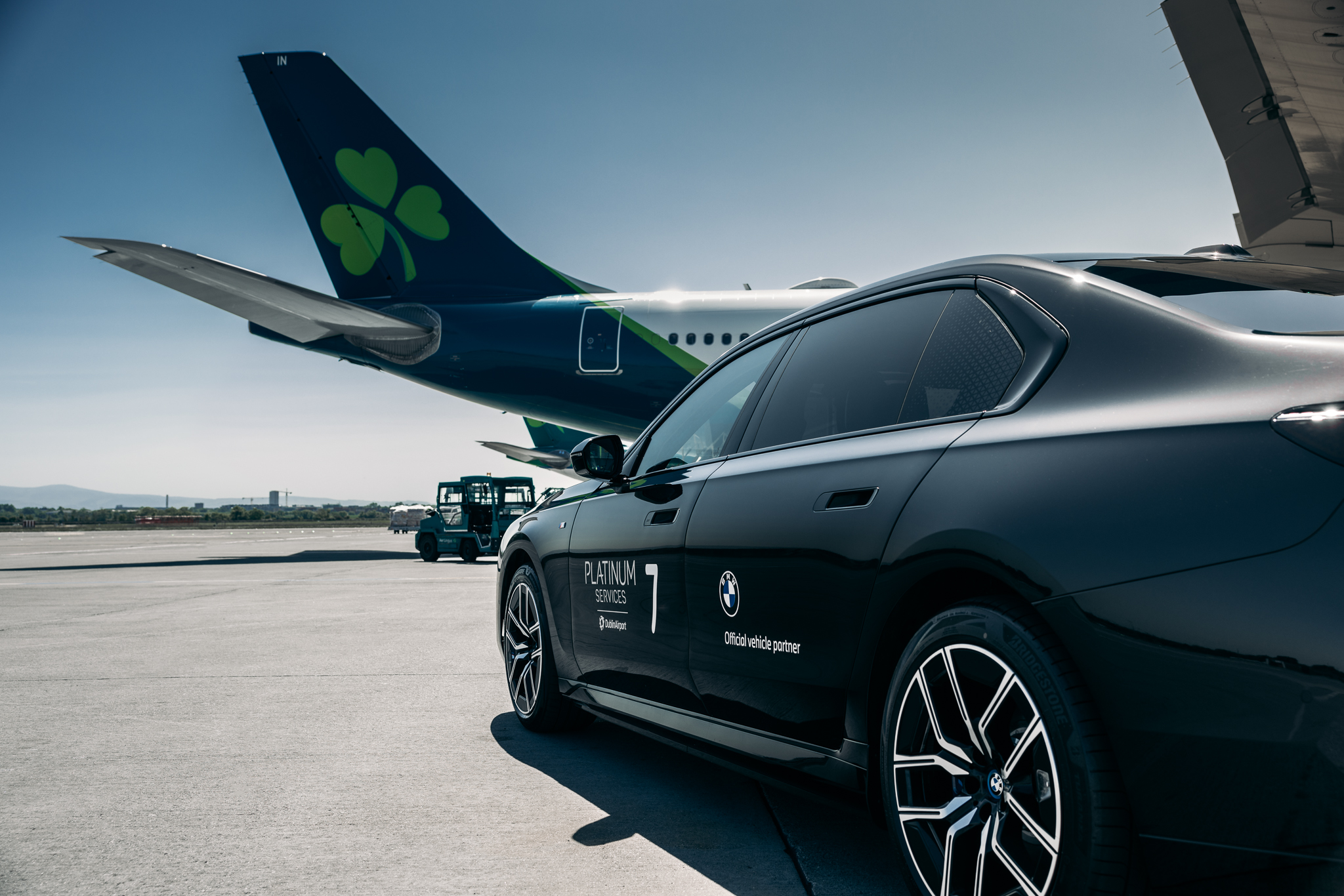 Platinum Services, Dublin Airport's premier 24-hour private terminal, has announced the move to a fully electric vehicle fleet in partnership with BMW Group Ireland.
The fleet upgrade represents a significant investment in sustainable transportation and includes the installation of a suite of additional EV charging units for customers.
The move reaffirms Platinum Services and Dublin Airport's commitment to reducing its carbon footprint while providing a premium, top-quality service to customers.
The new electric fleet comprises of state-of-the-art BMW i7 and iX vehicles which combine electric driving, unsurpassed levels of comfort for passengers and a top-end digital experience. With zero local emissions, the vehicles contribute to Platinum Services' and Dublin Airport's broader sustainability efforts. Of course it is not just tailpipe emissions that count, the reduction of CO2 emissions over the entire lifecycle of a vehicle a top priority for BMW on its journey to climate neutrality.
For example, the BMW i7 is produced in Dingolfing, Germany where green energy is used along with an extensive use of recycled materials in the body of the car. In addition, BMW Group places great value on ensuring that raw materials for manufacturing are not only environmentally sourced, but also socially and ethically responsible.
The Group also aims to create a closed and sustainable loop for the recyclable materials used in battery cells. To find out more visit here.
In addition to its sustainability benefits, the new fleet offers a luxurious and comfortable passenger experience. The BMW i7's spacious interior and ergonomic design ensure a relaxing journey for passengers, while the advanced technology and features provide a seamless and enjoyable ride.
"We are thrilled to introduce our new electric fleet in partnership with BMW Ireland," said Ronan O'Donoghue, General Manager of Platinum Services.
"This investment in sustainable and environmentally friendly transportation is a significant step forward for Platinum Services, and we are proud to contribute to Dublin Airport's ambitious broader sustainability efforts. We look forward to offering our customers a premium, top-quality service with the added benefits of luxury and comfort," he added.
Helen Westby, Managing Director, BMW Group Ireland said: "The introduction of an all-electric fleet of cars to Platinum Services is an important opportunity for us to showcase a truly premium electric experience to customers. Our ambition is to be the most sustainable premium car brand in the world, and partnerships with companies like Platinum Services provide a platform for us to do this with a wide audience in Ireland and internationally."
Platinum Services' all-new electric fleet represents a significant milestone in its ongoing commitment to sustainability and customer satisfaction. With zero emissions, energy efficiency, and a luxurious passenger experience, Platinum Services' electric fleet sets a new standard for premium transportation at Dublin Airport.