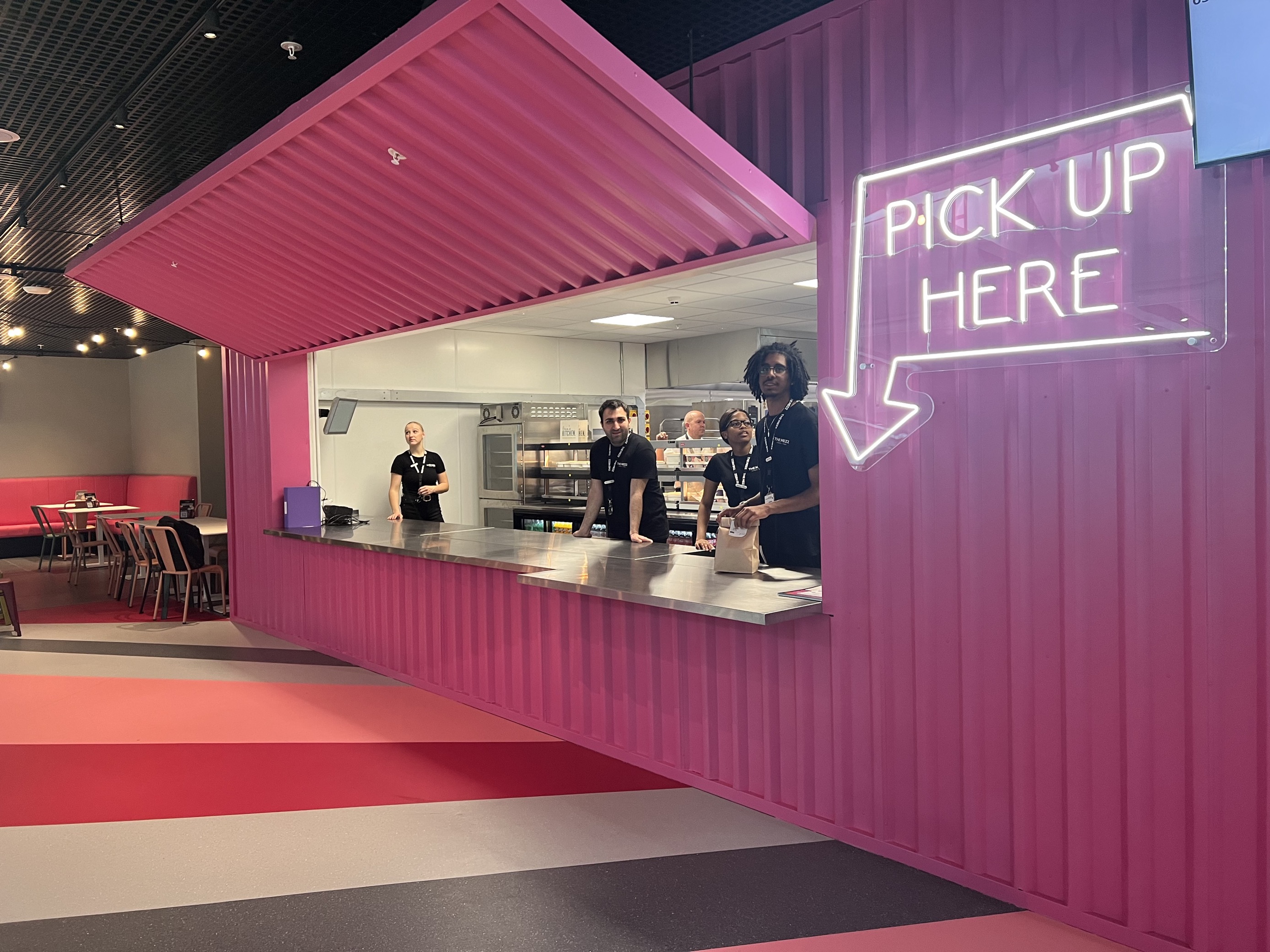 Dublin Airport has today opened "The Mezz", a new street food-style unit in Terminal 2, offering six new exciting food and beverage options to passengers.

The six new offerings in The Mezz, developed in partnership with SSP Group, include: Camile Thai, serving 'Good Mood Thai Food', Handsome Burger, a homegrown market-style restaurant serving what has been dubbed 'Ireland's best burger', Badger & Dodo coffee, the SSP-developed brand Erin's Kitchen, offering classic, homemade comfort food dishes that draw on traditional Irish recipes, and Ancho Hancho, inspired by the Mexican street market, serving a variety of Mexican-inspired dishes. A bar boasting a range of locally brewed beers complements the offering in The Mezz.
The opening of The Mezz is just one of the many enhancements being introduced at Dublin Airport as part of a 15-point improvement plan which is raising standards for passengers in both terminals. As well as the addition of numerous new food and beverage outlets, the plan also includes the rollout of additional seating for passengers at departure gates, a doubling of average free Wi-Fi speeds throughout the airport and improvements at security to ensure at least 90% of passengers get through in under 20 minutes this summer.
The Mezz is located upstairs in the airside departures area of T2, offering stunning views of the wider terminal and airfield.
Ordering is quick and easy, with The Mezz featuring innovative digital solutions, including digital kiosk screens which allow customers to order from each of the brands in one, convenient place. A 31-metre digital banner – one of the longest in Europe – uses colourful displays to showcase menu options to passengers.
SSP has also partnered with leading specialty coffee roaster, Cloud Picker Coffee. A local favourite brand, Cloud Picker Coffee will bring a truly local coffee experience to the airport. It's first coffee shop is set to open on July 27, with more to follow.
According to Ronan Fitzsimons, General Manager Commercial, at Dublin Airport: "Passengers travelling through Dublin Airport now have even more choice when it comes to grabbing a pre-flight meal or drink. The opening of these 6 new fantastic offerings comes at a good time as we enter second half of the peak summer period, with around 2 million passengers set to depart from Dublin Airport over the next weeks. From listening to customer feedback, we know passengers want variety at a range of price options and that's exactly what these new offerings in The Mezz provide. We're delighted to be working with SSP and many fantastic Irish brands in Camile Thai, Handsome Burger, Badger & Dodo and Cloud Picker Coffee. The even better news for passengers is that we're working hard to improve the food and beverage offering in both terminals at Dublin Airport even more, ensuring travellers have a fantastic experience when going through Dublin Airport. Passengers can look forward to more new outlets opening very soon."
Kari Daniels, CEO SSP UK & Ireland said; "At SSP, we take great pride in meeting and exceeding our customers' needs. These new units represent the best of Dublin, from local flavours to innovative brand favourites, providing a truly authentic F&B experience for travellers coming through the international travel hub that is Dublin Airport. The digital solutions we've developed for The Mezz will allow guests to easily access items across a number of excellent F&B offerings in one place, which we think will be particularly well-received by families and groups travelling together, as we'll offer something for everyone, no matter their preference."