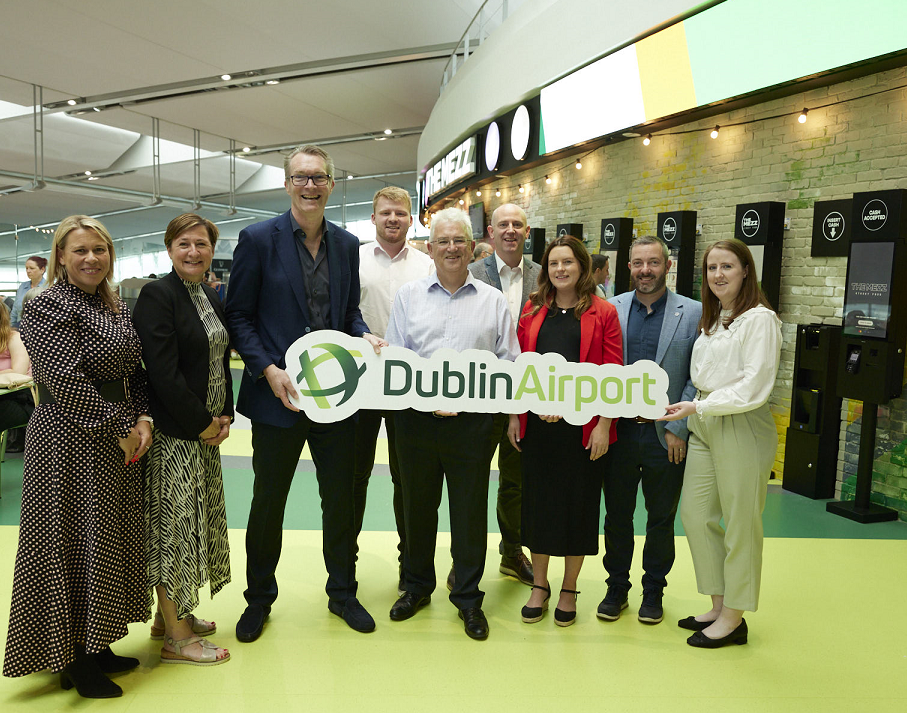 Dublin Airport has announced the highly anticipated opening of 'The Mezz,' an exciting new street food concept situated in Terminal 2, in partnership with SSP Group, a leading operator of food and beverage outlets in travel locations worldwide.
'The Mezz' introduces six delicious food and beverage options, blending Irish flavours with innovative brands developed by SSP. This new addition is part of Dublin Airport's commitment to enhance the passenger experience, offering a diverse culinary journey that caters to all preferences.
Camile Thai takes guests on a gastronomic adventure with its 'Good Mood Thai Food,' crafted from fresh local ingredients with a strong emphasis on sustainability. From delectable Mango Rainbow and Berry Rainbow granola bowls to the soon-to-be-famous Thai Fry breakfast and signature dishes like the 'Camile Signature Spice Bag' and 'Crispy Chilli Chicken,' Camile Thai brings the vibrant tastes of Thailand to all day parts.
Homegrown in Galway, Handsome Burger delights patrons with what has been hailed as 'Ireland's best burger.' The menu features favourites like the classic Handsome Burger, showcasing a hand-rolled beef patty, sticky onions, pickled cucumber, and rocket on a Coughlan bun, paired with rosemary and sea salt fries. For a delightful breakfast option, a smashed hash brown, cheese, and egg muffin awaits.
Erin's Kitchen, exclusively developed by SSP for the airport, serves classic, homemade comfort food inspired by beloved Irish recipes. Slow-cooked pulled ham hock with creamy mash and shredded cabbage, alongside roasted root vegetables and gravy, provide a hearty and soulful dining experience. Additionally, guests can savour a classic Irish breakfast complete with black pudding, white pudding, potato, and farl.
Ancho Hancho draws inspiration from the vibrant Mexican street market, offering a variety of Mexican-inspired dishes, from breakfast burritos to savoury Mexican rice bowls featuring pinto beans, pico de gallo, guacamole, and more. Passengers can personalize their meals with a choice of pulled beef, chicken, or roasted vegetables.
The Mezz's four food concepts are thoughtfully accompanied by a bar boasting a range of international favourites and locally brewed beers, as well as specialty coffee options from Irish coffee roasters, Badger & Dodo, who meticulously source from a curated collection of over 85 coffees.
'The Mezz' integrates cutting-edge digital technology to enhance the overall customer experience. A captivating 31-meter digital banner, developed in collaboration with Trison, stands as a striking focal point in the terminal, displaying vibrant and colourful menu options from each brand. Innovative digital kiosks allow customers to conveniently place orders from all the brands in one seamless process, making dining at The Mezz a breeze.
Kenny Jacobs, CEO of daa, the operator of Dublin Airport said:
"The new food offerings in The Mezz are already receiving exceptional feedback from the 100,000+ passengers that fly in and out of Dublin Airport every day. As an exciting addition to Terminal 2, we have launched 'The Mezz' in close partnership with SSP, based on invaluable feedback from our passengers. These six extraordinary additions provide our passengers with an unparalleled array of choices, offering menus packed with tantalizing food and drink options. The opening of 'The Mezz' exemplifies our 'Better Dublin' improvement plan, which continually raises standards for passengers, including the food and beverage offerings in both terminals. We are delighted to collaborate with SSP to bring 'The Mezz' to fruition, and passengers can eagerly anticipate even more exciting changes and enhancements coming soon."
Kari Daniels, CEO SSP UK & Ireland, said:
"At SSP, we take great pride in delivering the best of Dublin to travellers passing through the international travel hub that is Dublin Airport. 'The Mezz' epitomises this commitment, offering a truly authentic F&B experience with a diverse range of local flavours and innovative brand favourites. Our digital solutions at 'The Mezz' allow guests to access a variety of excellent F&B offerings conveniently in one place, catering to families and groups traveling together, ensuring there is something for everyone, no matter their preference."

'The Mezz' is a standout feature in Dublin Airport's ongoing 15-point improvement plan, which elevates standards for passengers in both terminals. In addition to numerous new food and beverage outlets, the plan includes the rollout of additional seating at departure gates, a doubling of average free Wi-Fi speeds throughout the airport, and enhanced security measures to ensure at least 90% of passengers pass through in under 20 minutes this summer.

Located upstairs in the airside departures area of Terminal 2, 'The Mezz' treats guests to impressive views of the wider terminal and airfield, creating a delightful ambiance during their time at Dublin Airport.