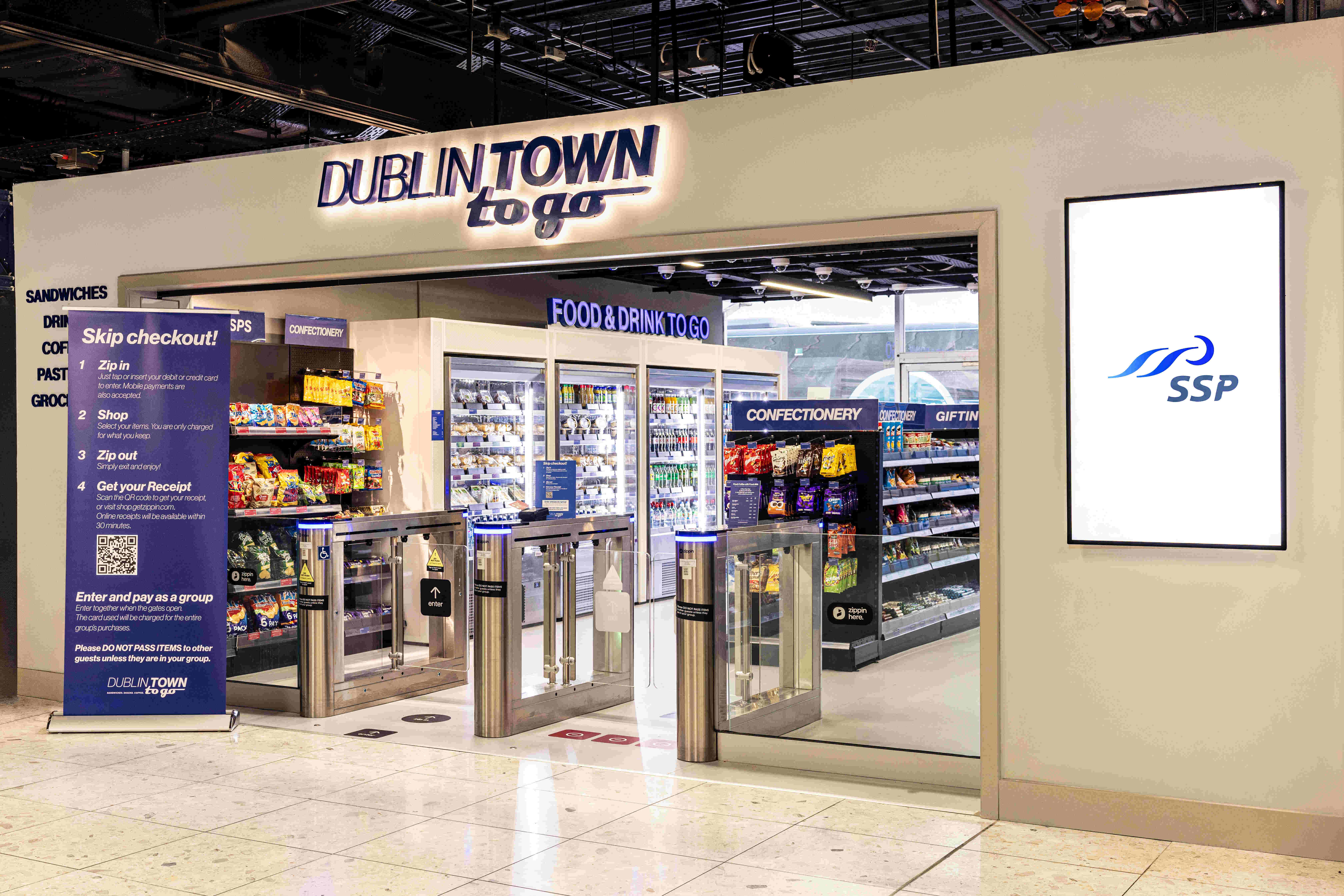 Dublin Airport is taking convenience to a whole new level for its passengers with the opening of a new concept store, in partnership with SSP, offering a frictionless, checkout-free experience for passengers.
The newly opened "Dublin Town To Go" store, located in Terminal 1 Arrivals at Dublin Airport, features innovative AI technology from contactless checkout solutions provider Zippin. To enter the store, passengers simply scan their debit or credit card. A combination of camera technology and weight-sensor-enabled shelving detects what each shopper is buying and charges their card once they exit the shop.

The store sells a wide range of goods to meet the needs of both departing and arriving passengers and also those waiting to welcome people in Arrivals. In "Dublin Town To Go" you can find everything from coffee, pastries, sandwiches and salads to sweets, cereal, milk and toiletries.
According to Vincent Harrison, Chief Commercial and Development Officer at Dublin Airport: "The opening of a checkout-free store in the airport is something completely new and different for passengers and we think they are going to love it. Dublin Airport is excited to be the home of the first concept store of this kind to be opened in Ireland. Whether passengers want to pick up a pre-flight sandwich and coffee, or essentials such as milk and cereal after arriving back into Dublin Airport, the technology deployed in "Dublin Town To Go" means they can do it quickly and in a hassle-free manner. We can't wait for passengers to try out the new store for themselves."
Mark Smith, Chief Digital and Technology Officer said; "At SSP, we pride ourselves on our ability to use the most sophisticated technology to bring customers the best possible experience. We're certain that customers will find this new way of shopping makes a real difference to their journey."