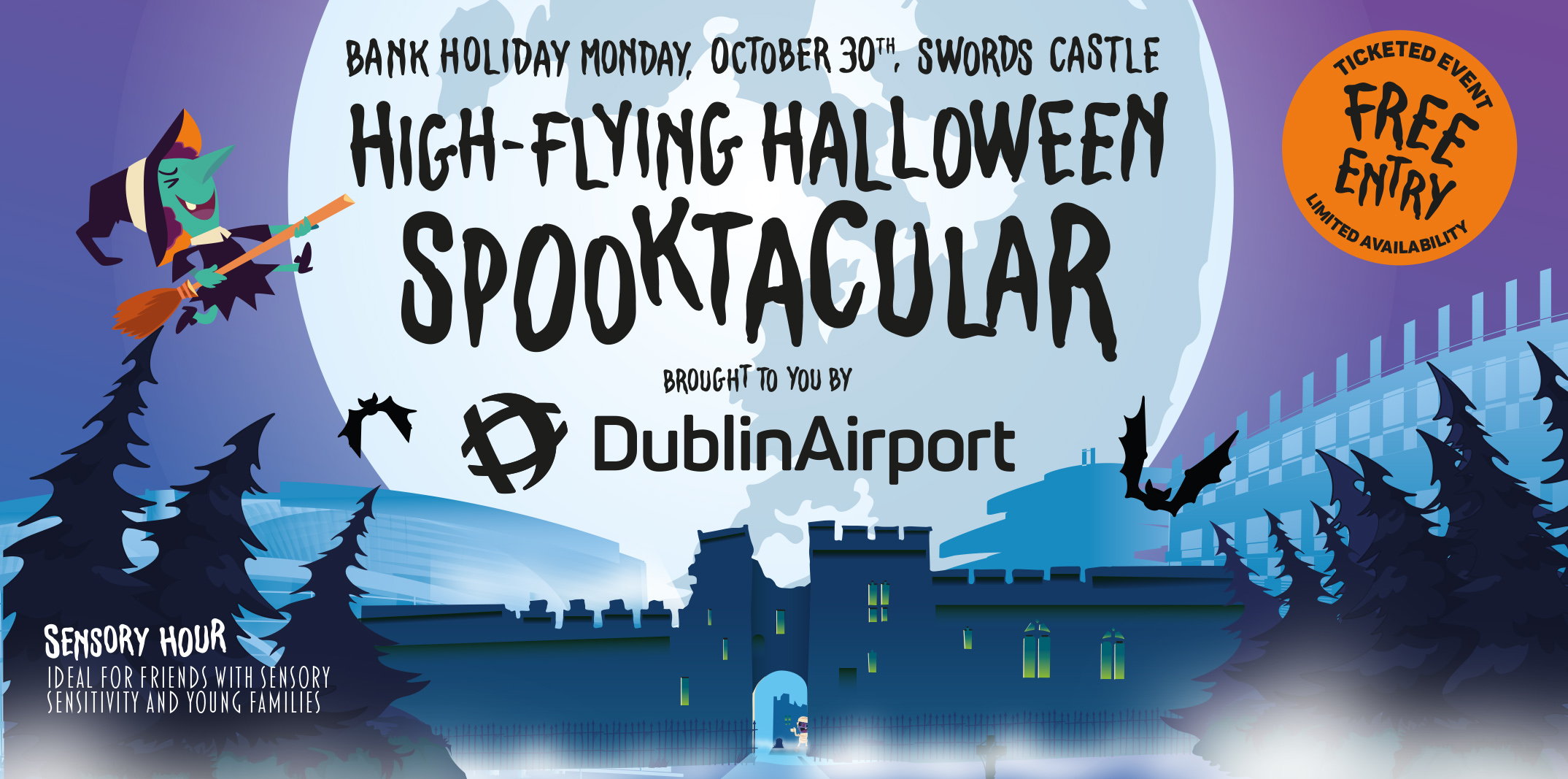 Get ready for a hauntingly good time at Dublin Airport's Halloween event at Swords Castle! We're giving away 20 family tickets and entering is as easy as pumpkin pie.
The Prize includes a family pass to the 'High-Flying Spooktacular' event at Swords Castle – Maximum 6 Persons Per Family Pass.

How to Enter on Facebook (October 24 - October 26):
Win One Of 10 x Family Passes
Like the competition post – which can be found HERE.
Comment below and tell us who you'd bring with you to this fantastic event if you win.
How to Enter on Instagram (October 24 - October 26):
Win One Of 10 x Family Passes
Follow Dublin Airport on Instagram – Click HERE.
Comment below this post and let us know who you'd bring along to this spine-tingling event if you win.
Event Details:
Date: Monday, October 30, 2023
Competition Winner Event Time: 16.30 – 18.30
Location: Swords Castle
*This is a private ticketed event – entry will not be permitted without a valid booking

What Awaits You:
Halloween Family Experience: Dive into a child-friendly odyssey through the enchanting realm of Swords Castle, where surprises lurk around every corner, making it an indelible journey, especially for the little ones.
Spooky Trail: Follow the designated path beneath the Orchard trees, where amicable characters will look for your help.
Games: We've prepared thrilling challenges for individuals of all ages to keep the entire family engaged.
Halloween Disco: Join us for a Halloween-themed dance extravaganza with entertainers to get all the little ones grooving.
Spooky Storytelling: Gather around for tales that will send shivers down your spine and ignite your imagination in the Chapel.
Pumpkin Patch: Our family-friendly pumpkin patch adds a dash of Halloween magic to your evening.
Special Spooky Guests: Keep an eye out for witches, wizards, ghouls, and perhaps even some vampires, who will add an extra layer of enchantment to your day.
The Ideal Venue: Swords Castle:
Swords Castle, an early medieval marvel nestled in Swords, Dublin, was originally constructed for the Archbishops of Dublin in the early 13th century, near the Ward River. It's a historical gem that serves as the perfect backdrop for our spooktacular, family-friendly Halloween event. Wander the castle's grounds, and you'll feel transported back in time, experiencing history with a Halloween twist.
While the venue is wheelchair accessible, please note that due to the historical nature of some areas, wheelchair access may be limited. Our friendly attendants will be on hand to help.
Wishing You a Spooktacular Halloween:
Dublin Airport extends warm Halloween wishes to all attendees. Prepare your spookiest costumes and join us for an event that guarantees cherished memories and lasting bonds. We can't wait to celebrate with you!
Terms & Conditions:
Entrants must live in either the Republic of Ireland or Northern Ireland, and all children under 18 must be accompanied by an adult (over 18 years of age).
This prize has no alternative cash value and is not transferable.
Winners will be selected at random and will be allocated an event entry slot time starting between 16:30-18:30, and each visit will last approximately 45 minutes.
Dublin Airport is not responsible for transport to or from the event.
The competition is not open to employees of DAA.
Terms & Conditions shall be governed by and construed in accordance with Irish Law and subject to the exclusive jurisdiction of the Irish Courts.
Entry shows acceptance of these terms and conditions, and DAA's decision is final concerning these T&Cs or any ancillary matter.

Stay tuned - we'll contact the lucky winners on Thursday, October 26. May the ghouls be ever in your favour!