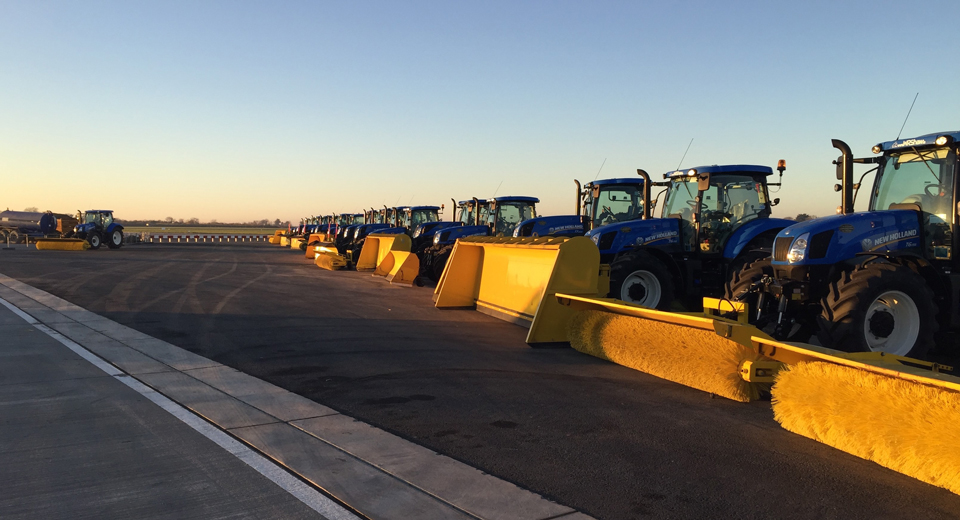 Driving around the perimeter road of Dublin Airport in the autumn, you'd be forgiven for thinking you were passing by a large farm as there are tractors parked in different areas around the airfield.
But these vehicles are our snow and ice equipment, which is placed in strategic locations on the airfield in preparation for the possible arrival of snow.
Since 2010 we have invested about €5 million in snow clearing equipment and every year we add new equipment and train more staff to assist with snow and ice clearance so that we're at full strength and ready if the weather gets bad. We also invest about €500,000 every winter to ensure we are prepared for extreme weather.
Snow and ice has the potential to significantly disrupt flight operations, so investment in training and equipment is stepped up every year, particularly as the airside expands with the addition of new aircraft parking areas.
We have up to 100 pieces of snow clearing equipment which includes a host of high-spec machinery such as multihogs, tow jet sweepers, de-icers, snow blowers, tractors with specialised attachments, motorised snow brushes and gritters. All our tractors can also be fitted with different pieces of snow moving kit, which allows them to shift large volumes of snow.
In the event of bad weather, the snow and ice team has more than 600 acres of apron, taxi-way and runway to keep clear. The way in which any snow is cleared from the airfield has been agreed in advance with our airline customers. The runway is always first, followed by taxi-ways, more than 130 aircraft parking stands - each of which is the size of a a football pitch - and other apron areas.
Winter preparation begins in the height of summer in June and planning is meticulous so that when it comes to clearing snow and ice it's done quickly and efficiently to minimise any disruption that may occur to flight operations, and ultimately, to passengers.
Operations are only ever suspended for safety reasons, and in such instances our snow and ice crews work to allow flights to resume as quickly as possible.