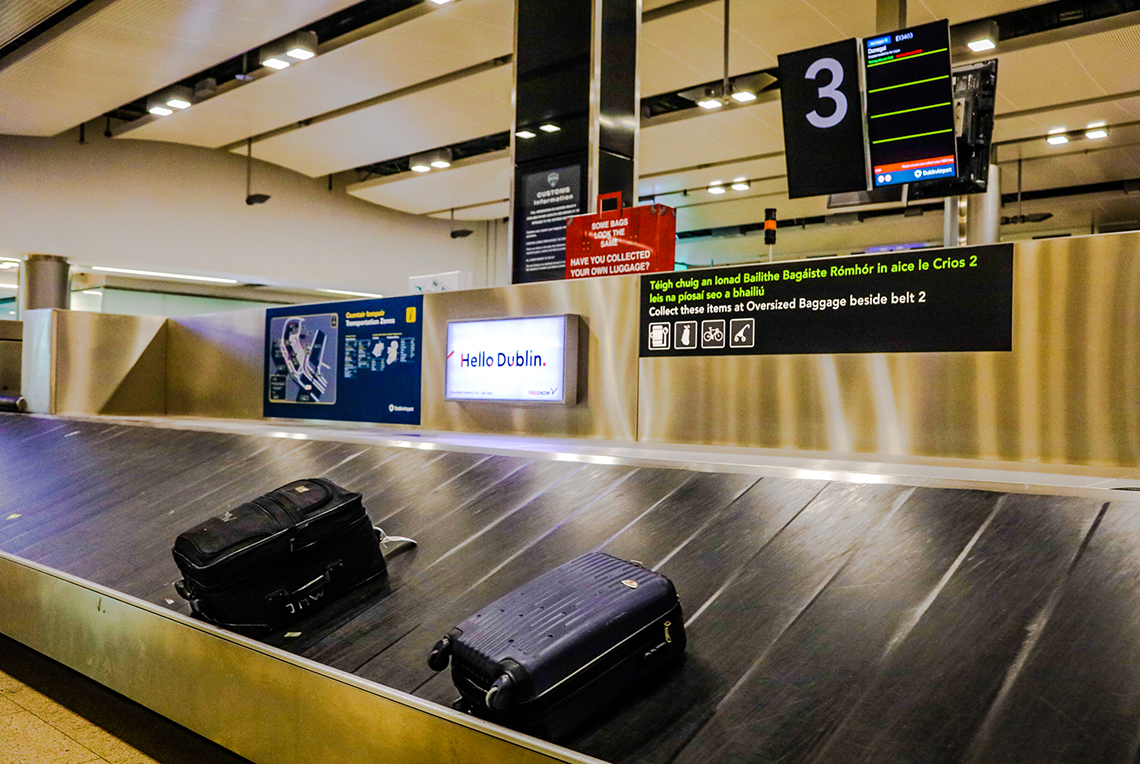 Dublin Airport has recently completed an upgrade of its baggage handling infrastructure in Terminal 2. The original structure, which had been in place since the terminal opened in 2008, was proving difficult to manage as replacement parts and operational supports are difficult to source.
While airlines are responsible for the carriage and delivery of baggage from the terminal to the aircraft on departure; and from the aircraft to the baggage carousel on arrival; Dublin Airport is responsible for providing the infrastructure to facilitate the baggage operation.
The baggage systems in the airport are designated gold level infrastructure, this means that they are critical to the day-to-day running of the airport operation. A large-scale failure on the baggage belts could cause significant delays to passengers and airline customers.
The new baggage installation works in the same way as barcode scanning in a grocery store. A series of automatic tag readers are positioned along the baggage carousel so that the luggage tag, containing information such as flight number, airline and destination, directs the luggage to its designated flight holding bay. The airline then collects all the baggage for that flight to load onto the aircraft.
The upgraded system operates on two levels of control. The lower level consists of seven kilometres of conveyor belts and almost 2,000 motors that operate the baggage belts and sorters, essentially the limbs of the baggage operation.
The upper level of control is the brain of the system, it indicates if errors or issues arise and highlights the operating status at all times.
The smart technology also knows when to move bags from one carousel to another, depending on load, in order to minimise wear and tear on each baggage belt. This helps maintain the asset for a longer period. The technology can also determine when the carousels are not in use, allowing it to power down certain areas and conserve electricity.
The big advantage of the upgraded baggage infrastructure is that Dublin Airport IT & Asset Care teams can constantly monitor and manage it, ensuring one of Dublin Airport's most important pieces of infrastructure is always working effectively.