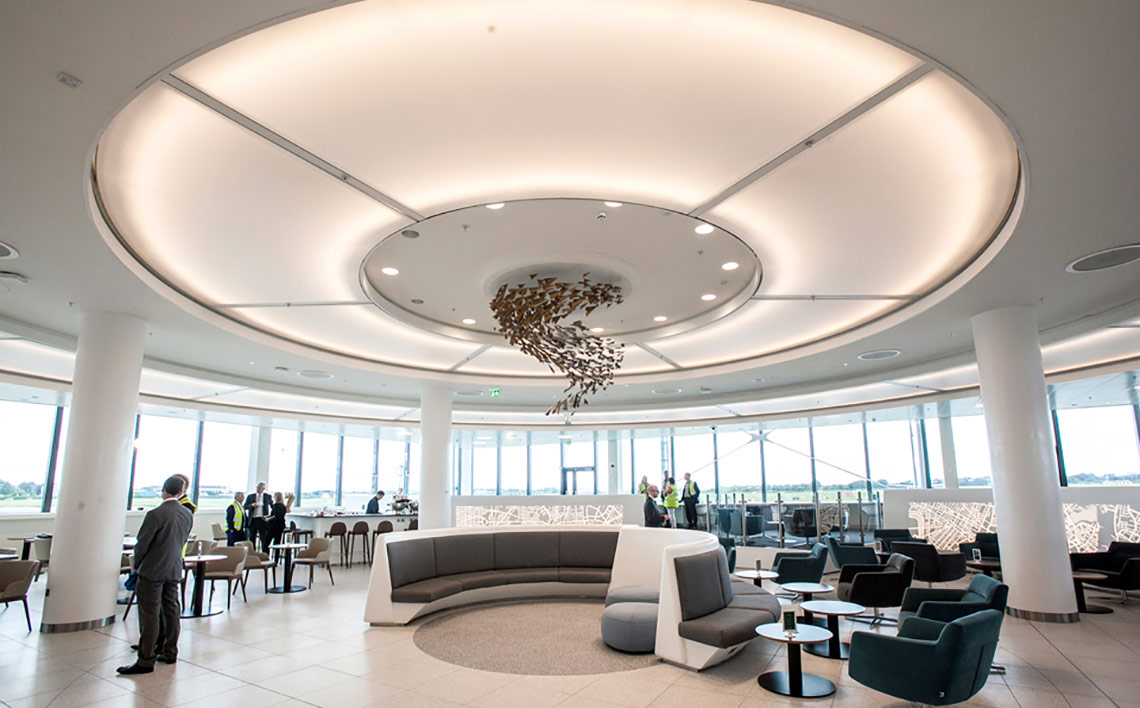 51st&Green Connecting Ireland and the US at Dublin Airport.

Dublin Airport has opened a new passenger lounge after US Preclearance in Terminal 2.
The new lounge, known as 51st&Green, named to reflect the theme of connecting Ireland and the US at Dublin Airport before departure.
The lounge is available to transatlantic passengers only travelling with Aer Lingus, Delta Airlines, United an American Airlines holding a business class ticket and airline club cards.
"We are delighted to have this post US Preclearance lounge open for passengers which is unique as Dublin the only airport outside of North America to offer a lounge facility once the necessary Preclearance checks are completed," said Dublin Airport Managing Director, Vincent Harrison.
"With four airlines currently flying 276 times to and from 11 destinations in the US on a weekly basis, an average of almost 40 return flights daily, Dublin Airport now ranks 5th among EU airports for route frequency to North America. We have surpassed Madrid and only Heathrow, Paris, Frankfurt and Amsterdam are ahead of Dublin," he added.
A record one million passengers used Dublin Airport's US Preclearance facility in 2015. Passenger numbers are up 19% in the first six months of the year with over one million passengers travelling to and from destinations in the US during that time.
Inspired by Newgrange, customers enter 51st&Green via a 32 metre entrance corridor over terrazzo tiles spaced with bronze strips, sloping to a bright open space with spectacular views of the airfield. The 750 square metre lounge, which is located close to the intersection threshold of runways 34 and 28, has seating for 180 people.
The lounge is zoned by activity giving customers the space to relax or work after completing security screening and US Preclearance checks while waiting to be called to their boarding gate close by.
As well as food and drink facilities, the new lounge offers a concierge service, luxury shower rooms, an entertainment area with sports channels, a private area for Platinum Service customers, printing facilities, charging outlets for multiple devices and free wifi.
"Almost 5 million passengers have used Dublin Airport's US Preclearance facility since it opened in T2 in February 2011. New York continues to be Dublin Airport's busiest transatlantic destination with passenger numbers up 6% on this route in the first six months of the year," according to Mr Harrison.
Overall passenger numbers at Dublin Airport increased by 13% to just over 13 million during the first six months of the year.
The airport welcomed over 1.5 million extra passengers during the first half of 2016.
The number of passengers using Dublin Airport as a hub to connect to other destinations increased by 28% with almost 448,000 passengers connecting through Dublin Airport in the first six months of the year.

Dublin Airport has direct flights to over 180 destinations in 40 countries on four continents.