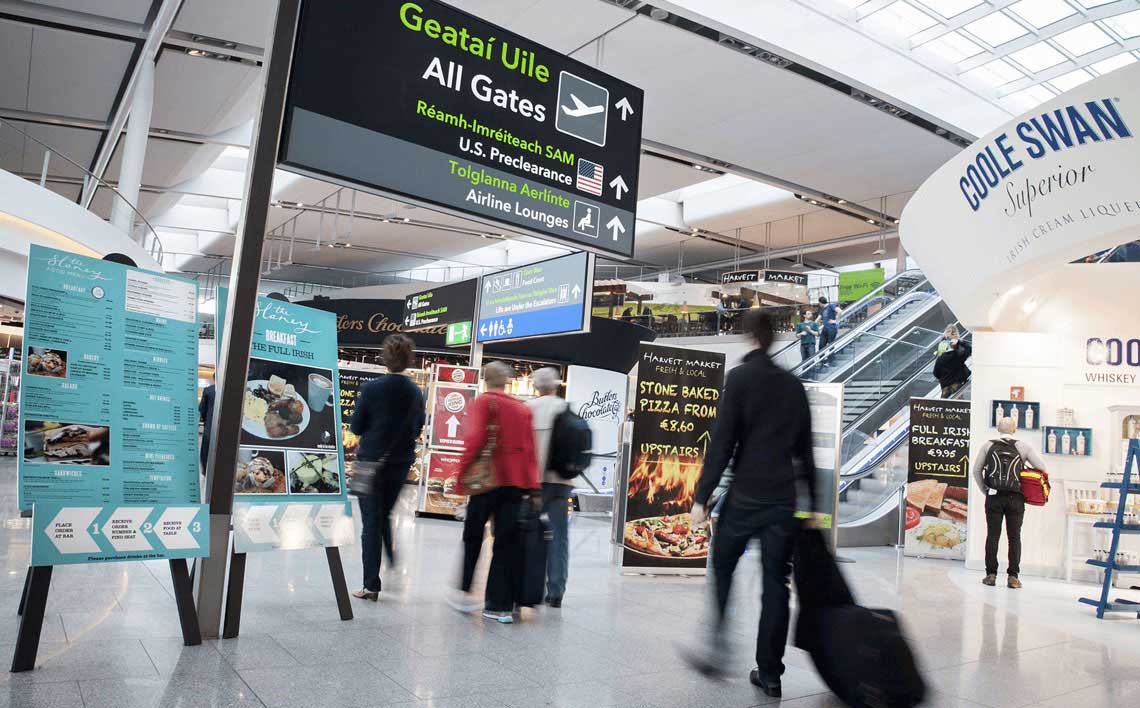 After tax profits at airport operator daa increased by 41% to €40 million last year, as passenger numbers and commercial income increased and its overseas retail business performed well in continuing markets.
Turnover at daa increased by 13% to €564 million, aided by higher revenues from aeronautical charges and increased income from commercial activities both in Ireland and overseas. Earnings before interest, taxation, depreciation and amortisation increased by 13% to €182 million last year.
When exceptional items are included, after tax profits declined by 50% to €19 million in 2014. The decline was due to the impact of a €21 million exceptional charge, relating in part to a €72 million investment that was made to resolve the long-running pensions-related issue at the company.
"daa recorded a solid year of progress in 2014," according to Chief Executive Kevin Toland. "We had the highest year of overall passenger growth since 2007 and our international travel retail business ARI performed strongly in continuing markets."
Total retail sales at Dublin and Cork airports increased by 6% to €227 million last year, as average passenger spends were maintained, despite the impact of a major upgrade of the retail area at Dublin Airport's Terminal 1. The first phase of this project opened in March and is trading well.
daa continued to reduce its debt levels during the year, as net debt decreased by €14 million to €600 million. Since 2010, the company has reduced its debt by €164 million. Operating costs increased by 13% to €282 million, which was due in the main to the impact of an overseas acquisition. Costs at daa's Irish airports increased by 4%, while passenger numbers at Dublin and Cork airports increased by 6% to 23.9 million last year.
Passenger numbers at Dublin Airport increased by 8% last year to 21.7 million, as growth was recorded in all main market sectors. Dublin Airport welcomed 1.5 million extra passengers last year, setting new records for long-haul traffic, transatlantic traffic, and transfer business. Long-haul traffic was up 14%, while transfer passengers increased by 37% to a record 749,000 last year.
Dublin's transatlantic traffic increased by 14% last year to a record 2.1 million passengers and has grown by 42% over the past four years. This major expansion in North American flights means that this summer, Dublin Airport will be Europe's sixth largest airport for transatlantic connectivity, with only the hubs of Heathrow, Amsterdam Schiphol, Paris CDG, Madrid and Frankfurt having more flights to the United States and Canada.
"Dublin Airport is now a significant player in the transatlantic market in Europe with 328 North American flights per week this summer to and from 15 different destinations," according to Mr Toland. "We believe there is further room to substantially grow this business, which will provide additional connectivity for our customers and increase transfer traffic at Dublin."
The British market provided Dublin Airport's largest growth in volume terms last year, as the number of passengers taking flights between Dublin and British destinations increased by 8% to 7.8 million, with an extra 604,000 people travelling. Continental European passenger numbers increased by 5% to 11.1 million last year, while other international traffic to the Middle East and North Africa increased by 19% to a record 634,000.
Dublin Airport will have 21 new services this year, with 16 new short-haul operations and five new long-haul routes.
Traffic at Cork Airport declined by 5% last year to 2.1 million passengers, due largely to a number of its central European routes being transferred to Shannon Airport. Stabilising passenger numbers at Cork and returning to growth there is a major focus for the company. Cork Airport, which is the State's second largest airport, will welcome three new services this year.
According to a new study undertaken by economic consultants InterVISTAS, Dublin and Cork airports provide direct and indirect employment for 48,000 jobs, which in turn support a further 13,400 jobs in the Irish economy.
The study found that when the wider economic benefits created from the air connectivity provided by Dublin and Cork airports in areas such as tourism, trade and foreign direct investment are taken into account, the two airports support and facilitate 108,000 jobs and contribute €7.6 billion annually to Irish Gross Domestic Product (GDP). "Dublin and Cork airports are not just the two largest gateways to the State, they are also major economic entities in their own right," Mr Toland said. "The study has found that Dublin Airport facilitates 97,400 jobs and has a total economic impact of €6.9 billion, which is equivalent to 4% of Irish GDP. Cork Airport supports and facilitates 10,700 jobs and is worth 2.2% of the regional economy within the southwest of Ireland. Some commentators view our airports as a proxy for Irish tourism, but this report underscores the absolutely vital role that Dublin and Cork airports play in the entire Irish economy."
daa has had a strong start to 2015 in passenger terms, with overall passenger numbers up 15% so far this year. Passenger numbers at Dublin have increased by 17% to 6 million so far this year, while passenger numbers at Cork have declined by 5% to 490,000.
The overseas arm of daa's travel retail business ARI had a good performance in 2014, with sales at continuing locations increasing by 10%. Profits at ARI declined from €29 million to €18 million year-on-year, as the business had benefitted in 2013 from the one-off impact of the sale of its operations in Russia and the Ukraine. Like-for-like profits at ARI's international locations increased by 50% to €18 million last year.
During the year, ARI acquired full control of CTC-ARI, which operates duty free outlets in Cyprus, in a €55 million transaction. Passenger numbers at Düsseldorf Airport, in which ARI owns a 20% stake, increased by 3% to a record 21.8 million last year.
Significant progress was made on the long-running issues affecting the multi-employer IASS pension scheme during the year. The scheme, which included employees from daa, Aer Lingus, and SRT, was frozen by the Trustee at the end of 2014. daa introduced a new defined contribution pension scheme in January of this year and in recent weeks, staff voted to accept the company's pension offer.
"This was a difficult and hugely complex issue to address, but with support and engagement from stakeholders the best outcome that was possible in the circumstances was achieved," Mr Toland said.