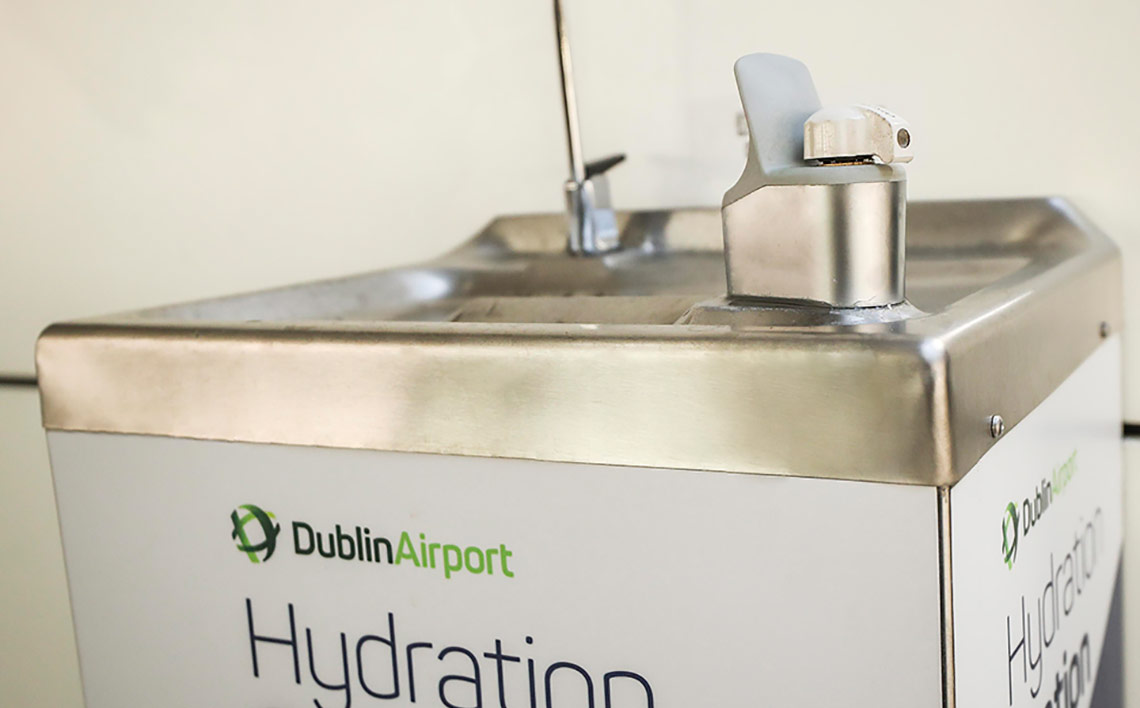 Dublin Airport has upgraded its water fountains and retrofitted them with new taps to make it easier to refill water bottles.
Dublin Airport has also made its water fountains more visible by re-branding them with new Hydration Station signage.
The re-branding of the water fountains is in response to customer feedback and to increase passenger awareness of the 15 fountains located in the terminals and boarding gate areas. Additional water fountains will be installed as part of general upgrading works in both terminals.
The initiative is part of Dublin Airport's overall sustainability strategy, which has been developed to implement, foster and communicate the principles of sustainability throughout the airport.
Dublin Airport Managing Director Vincent Harrison said the Hydration Stations have been upgraded to include swan taps that allow passengers refill their water bottles at their convenience. "As Dublin Airport continues to grow, we are committed to providing choice for our customers and making a positive contribution to our environment," Mr Harrison said.
"We hope that by improving passenger awareness of our Hydration Stations, passengers and airport staff will further reduce their reliance on single use plastic bottles," he added.
Hydration Stations can be found on the Mezzanine level in Terminal 1, in the Arrivals Hall of Terminal 1, Departures areas in Terminals 1 and 2, immediately after security screening in Terminal 1, in all passenger boarding areas and in both baggage halls.
The revamped water fountains offer greater choice to passengers. Dublin Airport will also continue to sell its Plane Water at €1 per bottle both in shops and via its honesty box system.
In the last five years, Dublin Airport has reduced its consumption of CO2 by 5,145 tonnes, which is the equivalent of taking 2,273 cars off the road, and energy efficiency has increased by 44%. About 15% of the airport's vehicle fleet have been upgraded to Low Emission Vehicles (LEVs). Recycling has increased by 40% and none of the waste generated at the airport is now sent to landfill.
While passenger numbers have increased by 47% since 2013, water consumption is down by 169,024 litres since 2013, enough to fill 67 Olympic sized swimming pools.
Dublin Airport has welcomed over 29.2 million passengers in the first 11 months of the year, which is a 6% increase over the same period last year. More than 1.8 million extra passengers have travelled through the airport between January and November.
Dublin Airport has flights to almost 190 destinations in 43 countries, operated by 56 airlines.
Image above: One of Dublin Airport's 15 newly branded Hydration Stations located across both Terminal 1 and Terminal 2.