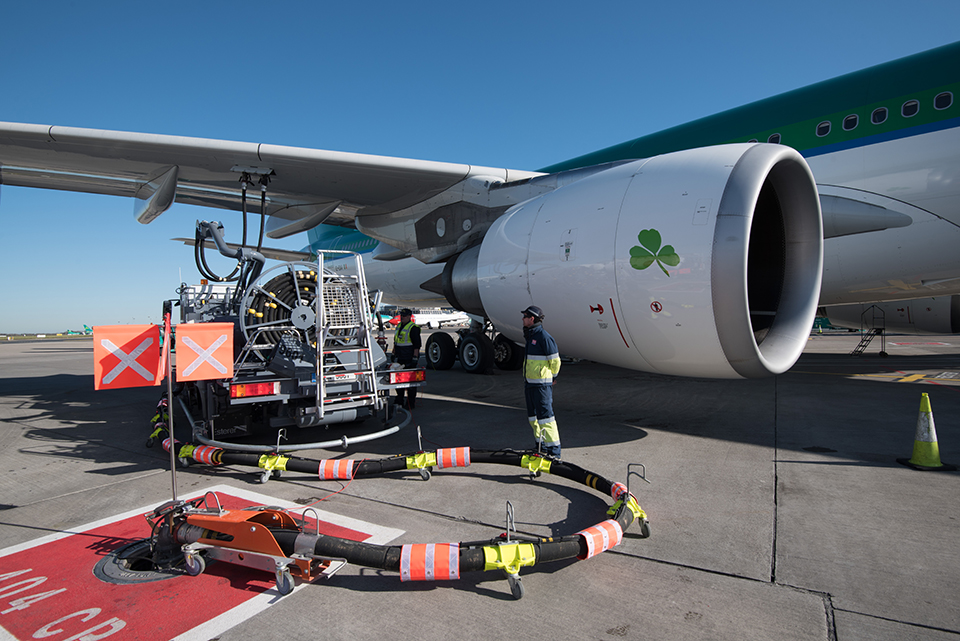 50% time saving to refuel long-haul aircraft
50% reduction in refuelling vehicles on the airfield
Dublin Airport's new €40 million aviation fuel farm has opened bringing significant efficiencies to the aircraft refuelling operation.
The new fuel farm has six times the capacity of the original facility with three new aviation fuel tanks capable of storing 15 million litres of fuel in total - the equivalent of the capacity of six Olympic-sized swimming pools.
The project also included connecting the fuel farm to a fuel hydrant system to service aircraft parked on Pier 4, which is adjacent to Terminal 2. The fuel hydrant system, which was installed as part of the T2 project and was designed to be connected to the fuel farm subsequently, enables the fuel to be delivered directly into the aircraft via a hydrant dispenser that connects to a pit in the ground.
Previously at least two fuel trucks with up to 45,000 litres in capacity were required to fuel a long-haul flight. These aircraft can now be refuelled in less than half the time it took under the old system and the number of fuel vehicles on the apron area has reduced by 50%.
The hydrant fuel system will be extended to other piers on a phased basis.
"The extra fuel storage capacity that this development brings is hugely welcome," said Dublin Airport Managing Director Vincent Harrison. "Dublin Airport's passenger numbers has increased by 58% since 2011 from 18.7 million to 29.6 million in 2017. During that time Dublin Airport has welcomed 113 new routes and 22 new airlines customers' requirements for fuel has significantly increased," he added."
"The new fuel farm has brought significant efficiencies and benefits for our airline customers cutting the time to refuel long-haul aircraft by half and reducing the number of fuelling vehicles on the apron area by 50%," according to Mr Harrison.
"Passenger numbers are expected to grow further this year with 14 new routes and services comprising five long-haul and nine short-haul destinations starting at Dublin Airport this year. New long-haul services include Dublin Airport's first ever direct routes to the Asia-Pacific region with Cathay Pacific flying to Hong Kong and Hainan Airlines flying to Beijing; both of which start in June."
Spanish company CLH Group, which specialises in oil transportation and storage, was awarded the contract to design, finance, build, operate and transfer (DFBOT) under a concession arrangement for 20 years.
CLH Aviation Ireland Terminal Manager Ibon Ibarrola said "This has been an exciting and challenging project for us and we are delighted to bring our experience to Dublin Airport. I would like to thank all the stakeholders involved, particularly the fueling companies. We are looking forward to working on the next phase of this development."
Dublin Airport's original aviation fuel farm was built in 1970 and comprised three fuel tanks, each with a capacity for 800,000 litres. Two of the existing tanks will be converted to store water and the one tank will be demolished as part of the upgrade project.
Dublin Airport is one of the most important economic assets in the country. It supports or facilitates 117,300 jobs and contributes €8.3 billion annually to the national economy.
More than six million passengers have travelled through Dublin Airport in the first quarter of this year, representing a 4% increase, or an extra 248,500 passengers, compared to the same period last year.
This summer Dublin Airport will have flights to 195 destinations in 42 countries, operated by 56 airlines.