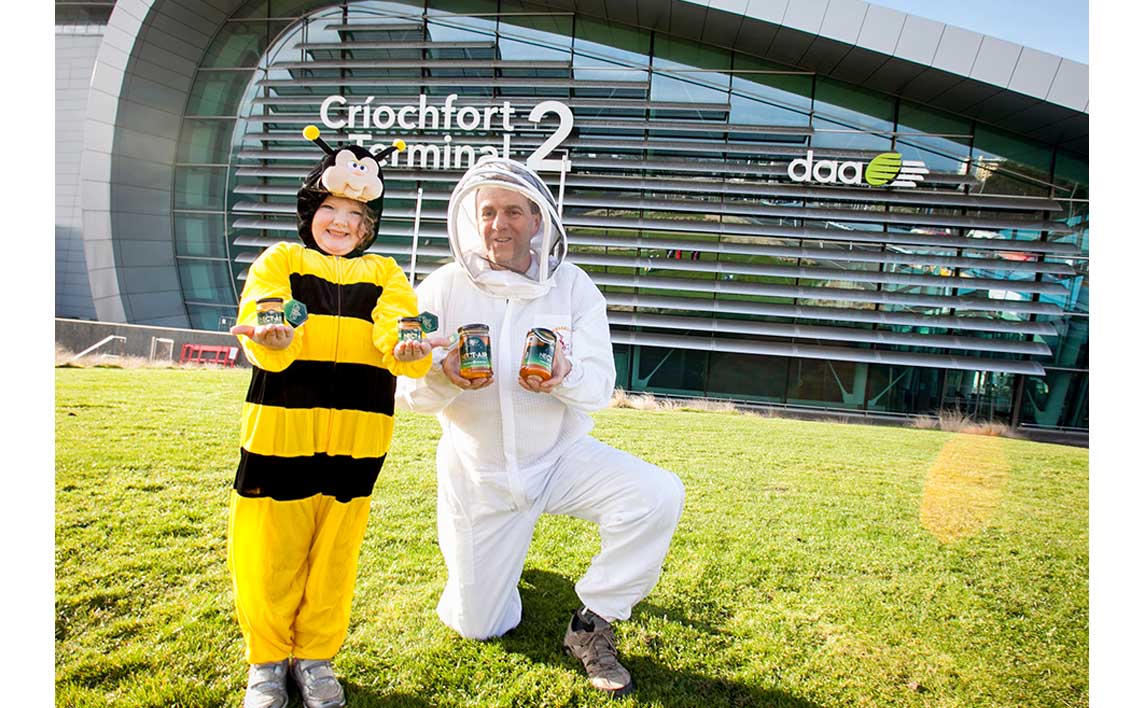 Nect-Air Brand Honey Now Available in daa Lounges
Bees from hives on Dublin Airport lands have produced their first batch of honey.
The honey, which is harvested from four hives housing more than a quarter of a million Irish dark native honey bees on airport land, has been named Nect-Air and now forms part of the menu in Dublin Airport's own executive lounges.
The four hives are located on Dublin Airport lands beside the airport campus. Following the successful trial, which produced the first crop of Nect-Air, Dublin Airport now plans to install additional bee hives at other locations on campus and increase honey production.
Dublin Airport Managing Director Vincent Harrison said the bees are thriving in excellent environmental conditions on the airport's land. "We're very proud to be able to serve customers with top quality 100% natural Irish honey produced on our own land. This is testament to the fact that the air quality and surrounding vegetation at Dublin Airport is excellent for the bees to pollinate."
Colonies of bees can cover areas of up to twelve square kilometres, working intensively for their food. Introducing bee hives to the local environment helps biodiversity and also makes it easier for airports to monitor emissions and overall carbon footprint.
"We are currently examining additional locations in and around the airport to allow us to have expand our honey production and install more bee hives so they can continue to make a positive impact on the local environment," Mr Harrison said.
Dublin Airport's bee hives were installed with the help and advice of the Fingal North Dublin Beekeepers' Association and the Department of Agriculture, Food and the Marine. The hives are tended to by local beekeeper Colm Fogarty who has 15 years' experience in beekeeping.
"Honey bees are one of the most important species within our eco-system, they are crucial for the survival of most of our animal and plant population," Mr Fogarty said.
"They are the hardest working insects pollinating hundreds of thousands of flowers and they are incredibly industrious making honey. Nect-Air is result of 250,000 Irish dark native honey bees living and working in the airport apiary and feeding on nearby wild plants such as clover, blackberry, bramble and hawthorn."
According to Mr Fogaty "this particular blend of flora gives Nect-Air its pleasantly mild, gently sweet flavour, along with its rich texture, warming amber hue, delicate aroma and slightly nutty undertone".
Dublin Airport's other pollinator initiative is its bug hotel, which hosts solitary bees, butterflies and hoverflies, green lacewings, ladybirds and earwigs. The hotel was built to encourage beneficial insects that perform a valued service in the environment such as pollination and pest control, and to support biodiversity in the airport's gardens.
The installation of bee hives and the bug hotel is part of Dublin Airport's wider sustainability programme that also includes reducing the airport's carbon footprint and investing in electric vehicles. Dublin Airport is already Airport Carbon Accredited, as part of a Europe-wide airport carbon management certification programme that covers more than half of European air passenger traffic.
Over the past four years, Dublin Airport succeeded in reducing its carbon footprint by 5,000 tonnes, which is equivalent to a 10% reduction in carbon emissions that fall within its control.
More than six million passengers have travelled through Dublin Airport in the first quarter of this year, which is a 4% increase compared to the same period last year. Dublin Airport will have flights to 195 destinations in 42 countries, operated by 56 airlines this summer season.
Image above: Síle O'Kane (6) and Beekeeper Colm Fogarty at the launch of the first batch of Dublin Airport honey, Nect-Air.