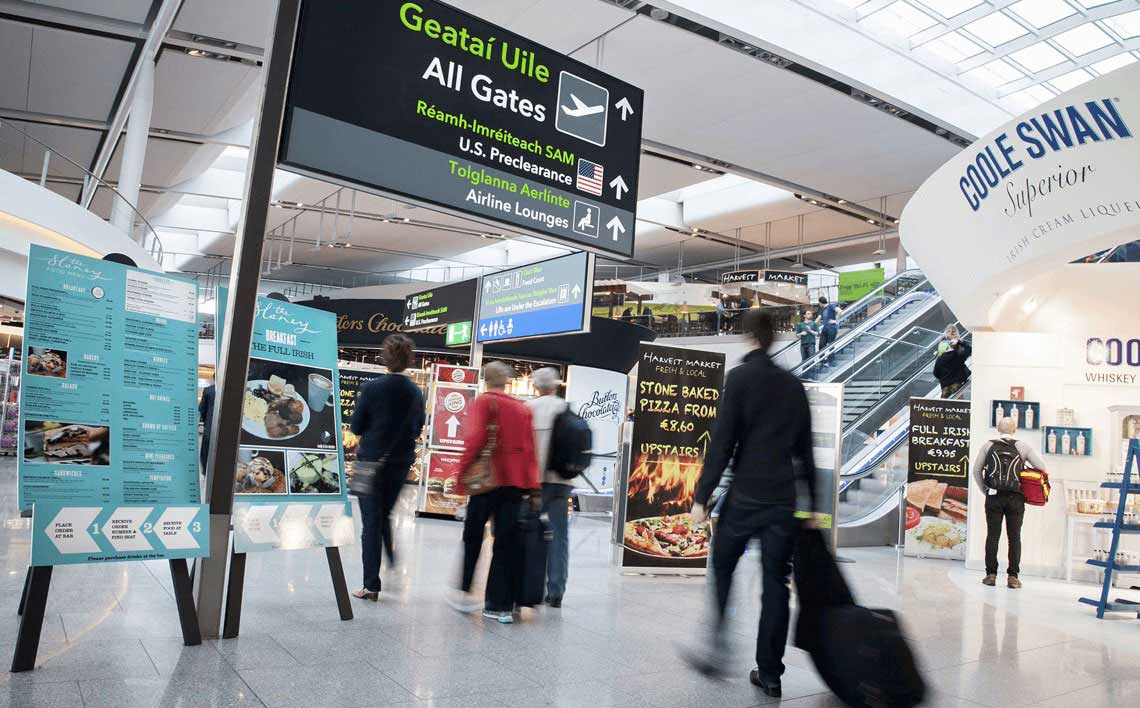 The number of Northern Ireland residents using Dublin Airport increased by 52% to a record 864,000 last year.
Dublin Airport witnessed a significant increase in business from Northern Ireland residents during 2014, as the airport's route network continued to grow and daa invested further in promoting Dublin Airport directly to consumers in Northern Ireland.
"Dublin Airport continued to expand its market share in Northern Ireland last year, as Northern Ireland consumers responded to our extensive route network and the huge choice that we now offer," said Dublin Airport spokesman Paul O'Kane. "We saw strong growth in Northern Ireland passengers choosing Dublin Airport for services to continental European, long-haul and UK provincial destinations last year."
Dublin Airport provides Northern Ireland residents with significantly greater choice in terms of destinations, airlines and frequency of services, and is also easy and convenient to use, whether travelling to the airport by car or by bus, according to Mr O'Kane.
Dublin Airport also continues to be the main international gateway for visitors to Northern Ireland, as 65% of all passengers who come by air to the island of Ireland passed through Dublin Airport last year.
Almost half of Northern Ireland residents who used Dublin Airport last year were travelling on holiday, while business travel accounted for 8% of trips. About 36% of Northern Ireland residents used Dublin Airport to visit family or relatives last year. Three out of every five Northern Ireland residents who used Dublin Airport last year took two or more trips through the airport.
"Route choice is the main reason why consumers in Northern Ireland opt for Dublin Airport, while cheaper flights, better flight times and more frequent flights also score highly," Mr O'Kane said.
Dublin Airport welcomed 24 new services in 2014, as overall passenger numbers at the airport increased by 8% to 21.7 million. This year, Dublin Airport will add an extra 21 new scheduled services, including five new direct long-haul services - Addis Ababa, Chicago, Los Angeles, Washington DC, and Halifax Nova Scotia - and 16 new short-haul routes.
"Dublin Airport has significantly expanded its route network in recent years," Mr O'Kane said. "Consumers can choose from a total of 167 scheduled destinations at Dublin Airport this year with 122 destinations in Continental Europe, 25 cities in the UK, 15 destinations in North America, three African destinations, and two destinations in the Middle East," he added.
New York JFK is the most popular destination for Northern Ireland consumers using Dublin Airport, followed by London Heathrow, Manchester, Dubai and Rome. Short-haul routes to the UK and continental Europe account for seven of the 10 most popular destinations for Northern Ireland consumers, with the long-haul destinations of New York, Dubai and Abu Dhabi also in the top 10.
"The growth in connectivity at Dublin Airport has added not just new destinations but also additional capacity on existing routes, which means greater choice of flight times and airline options for passengers," according to Mr O'Kane.
The UK remained the most popular country destination for Northern Ireland passengers using Dublin Airport followed by USA, Spain, France and Germany.
During the past three years, Dublin Airport has been running a series of advertising and marketing campaigns in Northern Ireland and this has helped growth business, according to Mr O'Kane.
"We have been advertising regularly on radio, outdoor and print media in Northern Ireland and this will continue. We've also been working closely with our airline partners to promote their specific products to consumers in Northern Ireland through mainstream advertising, marketing activity with the travel trade and a series of radio promotions."
Dublin Airport is expecting further growth from the Northern Ireland market this year as the number of available seats from Dublin Airport is up by almost two million this summer, which represents an 11% increase in overall capacity from the airport. Transatlantic capacity is up 18% with an extra 300,000 seats this summer.
This summer, Dublin Airport will have 10 airlines operating 328 flights per week to and from 11 destinations in the US and four destinations in Canada, which equates to an average of 47 daily flights to and from North America during the peak summer period.
"Dublin Airport will be Europe's sixth largest airport for transatlantic connectivity this summer, with only the hubs of Heathrow, Amsterdam Schiphol, Paris Charles De Gaulle, Madrid and Frankfurt providing more flights to the United States and Canada than Dublin," Mr O'Kane said.