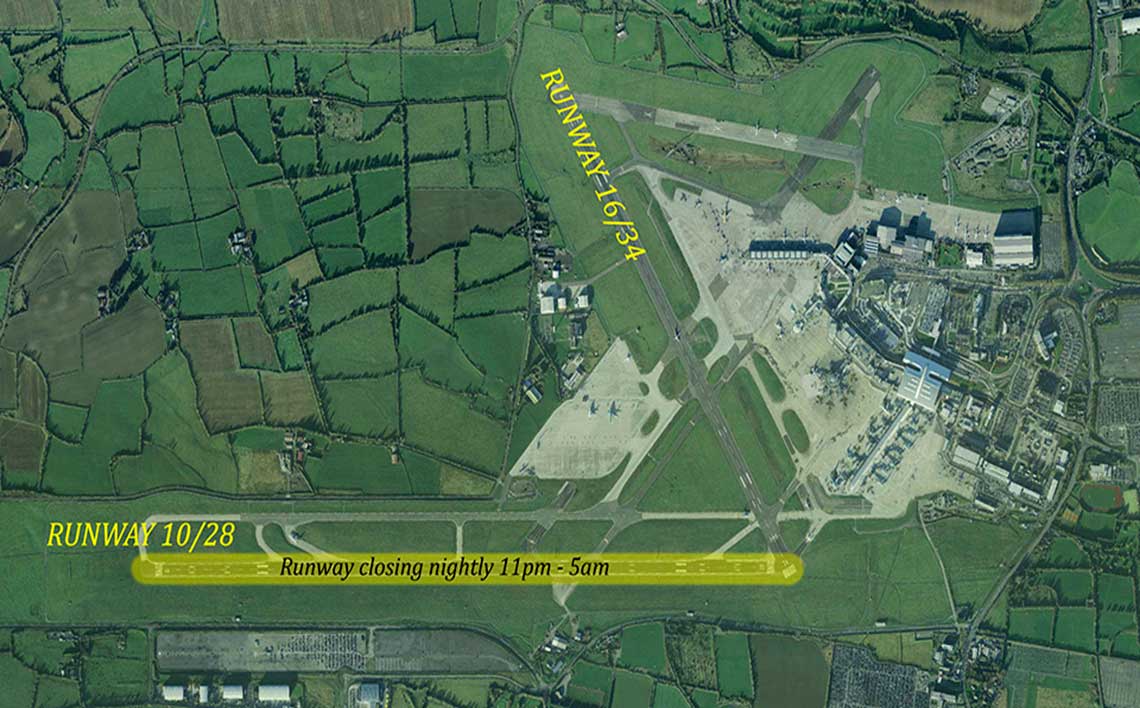 Full resurfacing of airport's existing main runway will take 18 months of night works
One hundred and fifty construction jobs are to be created at Dublin Airport in a major project to upgrade the airport's main runway.
The overhaul, which includes a complete resurfacing and the installation of new ground lighting systems, is essential to ensure that Dublin Airport's main runway can continue to operate safely.
Runway 10/28, which opened in 1989, typically handles 95% of all flights at Dublin Airport and is a critical element of Ireland's infrastructure. This is the first time in its 27-year history that the runway has had a full overhaul.
The work is required to ensure that the main runway continues to meet the strict regulations governing the operation and specification of runways at major airports.
This construction work will start today and will take place overnight between 11pm and 5am for up to 18 months. This work can only be undertaken at night as it requires the full closure of Dublin Airport's main runway.
"This is an essential investment in the future of Dublin Airport and in the future of the Irish economy," said Dublin Airport Managing Director Vincent Harrison. "Our main runway has been the workhorse of Dublin Airport since 1989 and has allowed the airport to grow from five million passengers per year to a record 25 million passengers last year," Mr Harrison added.
"More than four million aircraft have taken off or landed on our main runway during the past 27 years and it's now in need of a substantial overhaul."
While the night-time construction works are ongoing, flights will use Dublin Airport's secondary runway, which is also known as the crosswind runway. Runway 16/34 has been the airport's secondary runway since 1989 and typically handles about 5% of total traffic at the airport.
The work, which is weather dependent, is due to take place every weeknight for the next 18 months. It will involve a full resurfacing of Runway 10/28, which is 2,637m long, with three new layers of asphalt. The project also includes replacing the ground lighting system for the runway with new LED lights, which will reduce energy consumption by about 66%.
There will be no new flight paths used during the construction programme, but the work will increase the usage of some existing flight paths.
Runway 16/34 has two flight paths for arriving and departing aircraft. The R16 flight path brings aircraft over rural areas of North Dublin, while the R34 approach brings aircraft over South Dublin across Dublin Bay to Clontarf, Artane, Beaumont, Santry and Turnapin.
The Irish Aviation Authority (IAA), which has responsibility for air traffic control services, has given a commitment that during the construction works the preferred inbound flight path for Dublin Airport's secondary runway will be the northerly R16 approach, which brings aircraft over the least populated areas. The southerly R34 approach will only be used if required due to wind direction – as aircraft must land and take off into the wind.
Upgrading the main runway is a complex logistical project as construction teams will overhaul a portion of the runway every night before it is handed back to operations early each morning in time for Dublin Airport's busiest time of the day. The window for construction is only about four hours per night, due to the set up process required and the meticulous preparations for returning the runway to normal operations every morning.
Last year Dublin Airport had almost 198,000 landings and take-offs, with 95% of aircraft using the airport's main runway.