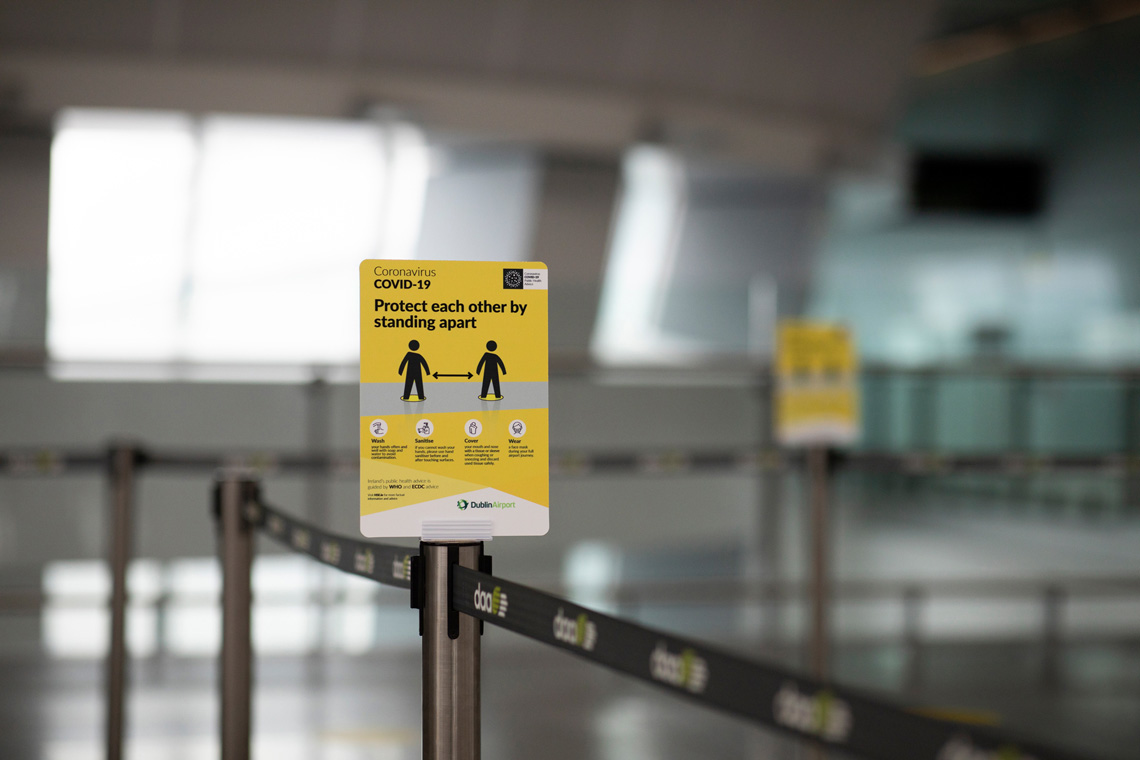 Dublin Airport has introduced some enhanced public hygiene measures to further protect the wellbeing and safety of passengers and staff in the light of the COVID-19 pandemic.

The new measures reflect both Ireland's national COVID-19 guidelines and the recent guidelines developed by the European Aviation Safety Agency (EASA) and the European Centre for Disease Prevention and Control (ECDC), to ensure the safe return of increased operations in Europe's aviation sector following the unprecedented downturn in recent months.

The health and safety of passengers and all staff based at the airport is always our main priority.
In line with the current EASA guidelines, access to airport terminals should be limited to passengers, crew members and staff to the extent possible (airport and other service providers that are required to enter the terminal in order to complete their tasks). Accompanying persons should only be provided access in special circumstances (e.g. accompanying or picking up a passenger requiring assistance – Persons with Reduced Mobility, unaccompanied minors, etc.).
Valid travel documents (either boarding card or passport) must be presented to a member of staff on arrival to the airport.
Passengers are strongly recommended to wear face masks or face coverings at all times when inside airport buildings or in car park shuttle buses. This recommendation applies to both arriving and departing passengers.
Children under the age of 13 will not be asked to wear face masks and passengers who have a valid medical reason for not wearing a face mask will also be exempt.
Passengers should bring their own face mask from home, but if they forget to do so, masks will be available for purchase at the airport.
The wearing of face masks is mandatory for our employees in all situations in which social distancing is not possible or difficult (medical exceptions apply). Certain employees will also wear additional PPE.
Socially distanced and simplified queue management systems have been put in place in all areas of the airports. In addition, there will now be separate points of access and egress to help reduce the mixing of arriving and departing passengers. There are floor graphics and signage throughout Dublin Airport to remind passengers of the importance of physical distancing and public announcements detailing the guidelines for social distancing from Ireland's Department of Health are being broadcast at frequent intervals.
Enhanced wayfinding signage is in place throughout the airport campus to assist passengers on their journey.
There are 620 new plexiglass protection screens in areas where there is close contact between passengers and staff such as check-in, security screening, retail and food & beverage outlets, customer service desks, boarding gates, and US Customs and Border Protection (CBP).
Socially distanced seating is in place in areas such as the boarding gates and food and beverage outlets and signage to indicate the maximum number of people permitted in bathrooms and lifts has also been installed.
There are regular deep cleaning and disinfection regimes. All key contact surfaces, such as security trays, self-service kiosks, escalator handrails, and trolleys now undergo enhanced regular cleaning using state-of-the-art hospital grade cleaning equipment.
Passengers are recommended to pre-book car parking online in advance. Contactless pay machines and entry columns are located in all car parks. Customers who have not booked online in advance can also use a contactless tap facility or insert their card upon arrival to the airport's car parks.
Social distancing measures are in place on car park shuttle buses and face masks are strongly recommended to be worn during the bus journey.
Passengers should check with their airline in relation to its current travel policies.
Please also check with your airline in relation to the latest information in relation to your flight, as flight services are currently subject to change.
Passengers and other airport users should continue to observe good hand and cough hygiene habits. Wash your hands frequently with soap and water or use an alcohol-based hand rub if your hands are not visibly dirty. There are 920 hand sanitiser units positioned in area throughout the airport campus. If coughing and sneezing, please cover your mouth and nose and sneeze or cough into a tissue or your elbow. Discard the tissue immediately and then wash your hands with soap and water or an alcohol-based hand rub.


How to wear a face covering