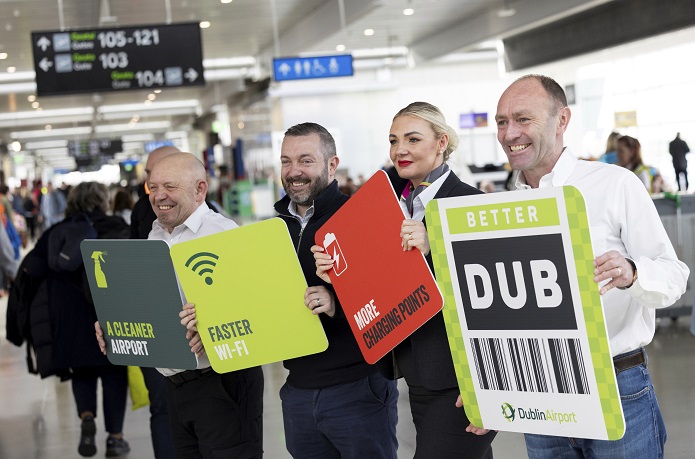 daa Chief Executive Officer, Kenny Jacobs has unveiled today, a 15-point plan, which will improve standards for passengers at Dublin Airport over the coming months.
This plan will see a whole range of improvements made in the terminals and to passenger services at Dublin Airport, including quicker security times, faster free Wi-Fi, additional seating, including the addition of designated family seating areas, and a mix of new and improved food and beverage options throughout both terminals.
daa, the operator of Dublin Airport, is aiming to get 90% of passengers safely through security in less than 20 minutes this summer, building on the stable performance experienced so far this year, with 92% of passengers processed in under 20 minutes. A full refurbishment of Fast Track is already underway in both Terminal 1 and Terminal 2.
Passengers departing from Dublin Airport over the coming months are advised to arrive at their terminal two hours in advance of a short-haul flight and three hours before a long-haul flight.
Once passengers are through security, they will find improvements to make their journey more pleasant, including increased seating - with 400 extra seats being added for Summer 2023 and two new dedicated family seating zones will also open in Terminal 1 in time for the busy Easter period.
Outlining the programme, Kenny Jacobs, daa CEO, said:
"We've listened to our passengers' feedback, and we're focussing on improving the things that matter most to them. This summer, our passengers can expect to see more staff, shorter queues, more seats, new family seating zones and less clutter across the airport. There will be more buses and taxis at the airport, and more places to eat and drink."
"Passengers will also be able to enjoy faster free Wi-Fi, with average speeds to be doubled over the course of this year. Charging their devices will be easier as well, with 20% more power sockets and USB charging ports. A full audit of existing sockets and ports has also been completed, with all broken units having been replaced," added Mr Jacobs.
Mr Jacobs added: "We have a fantastic range of new destinations from Dublin Airport and we are ready for a very busy summer ahead. Stable security screening times have returned, and we are advising our passengers to come to the terminal two hours before a short-haul flight, and three hours before a long-haul flight."
"Passengers using Dublin Airport can expect an improved experience this summer with higher standards across the airport and getting back to our usual travel advisory of 2 hours for short-haul and 3 hours for long-haul," Mr. Jacobs added.
Cleaner and Less-Cluttered Airport
daa is also placing an increased focus on ensuring the airport is clean, with daa's team putting in 1,500 cleaning hours, and conducting 120 cleaning inspections every day this summer. daa's increased focus on cleaning is already paying off, with passengers' "happy or not" scores now at their highest levels in three years across the 500+ toilets across both terminals.
Travelling through Dublin Airport will be easier, following a decluttering over recent weeks. Passengers' taste buds will also be satisfied, with the addition of five great new places to eat and drink this summer, as well as an additional 'pop-up' coffee offering at the busy 100 gates during peak times.
Getting to and from Dublin Airport will also become easier this summer, with 15% more bus routes operating and 20% more taxi permits issued.
daa's 15-Point Improvement Plan For Dublin Airport Passengers:
Strong security: 90% of passengers will pass through security screening in under 20 minutes.
Cleaner washrooms: Higher cleanliness standards throughout both terminals with1,500 cleaning hours and 120 cleaning inspections each day this summer.
More seating: 400 additional seats being introduced across the terminals.
New family seating zones: Dedicated family seating areas added in Terminal 1.
Faster free Wi-Fi: Average Wi-Fi speeds to be doubled in the terminals during 2023.
Better Fast Track: Full refurbishment of Security Fast Track in Terminal 1, with a whole new look and feel.
More Charging Points: 20% increase in number of power sockets and USB ports available for passengers. All existing sockets tested and replaced where necessary.
Less clutter: Clutter removed from both terminals for a quicker and smoother passenger journey.
Better customer service: Always enough staff in place in key areas.
Better taxi experience: 20% increase in permits issued.
More bus options: 15% increase in active bus routes.
More food options: 5 new eateries opening, with a new pop-up coffee unit during the summer months, and delicious new meal-deals across our food and beverage partners.
More Sustainable: We are increasing the number of Low Emission Vehicles (LEVs) across the airport's light vehicle fleet by 70% this year versus last.
New ways to shop: Collection lockers are being introduced to make it easier for people to Shop & Collect at their leisure.
Better App: Passengers will be able to leave feedback in real-time this summer using a new 'Rate My Airport' feature on the Dublin Airport app.
Summer Schedule
This summer, Dublin Airport has flights to almost 190 destinations in 39 countries, operated by 44 airlines. More than 1.5 million extra seats have been added across the airport's route network, which is 6% higher when compared to last summer.