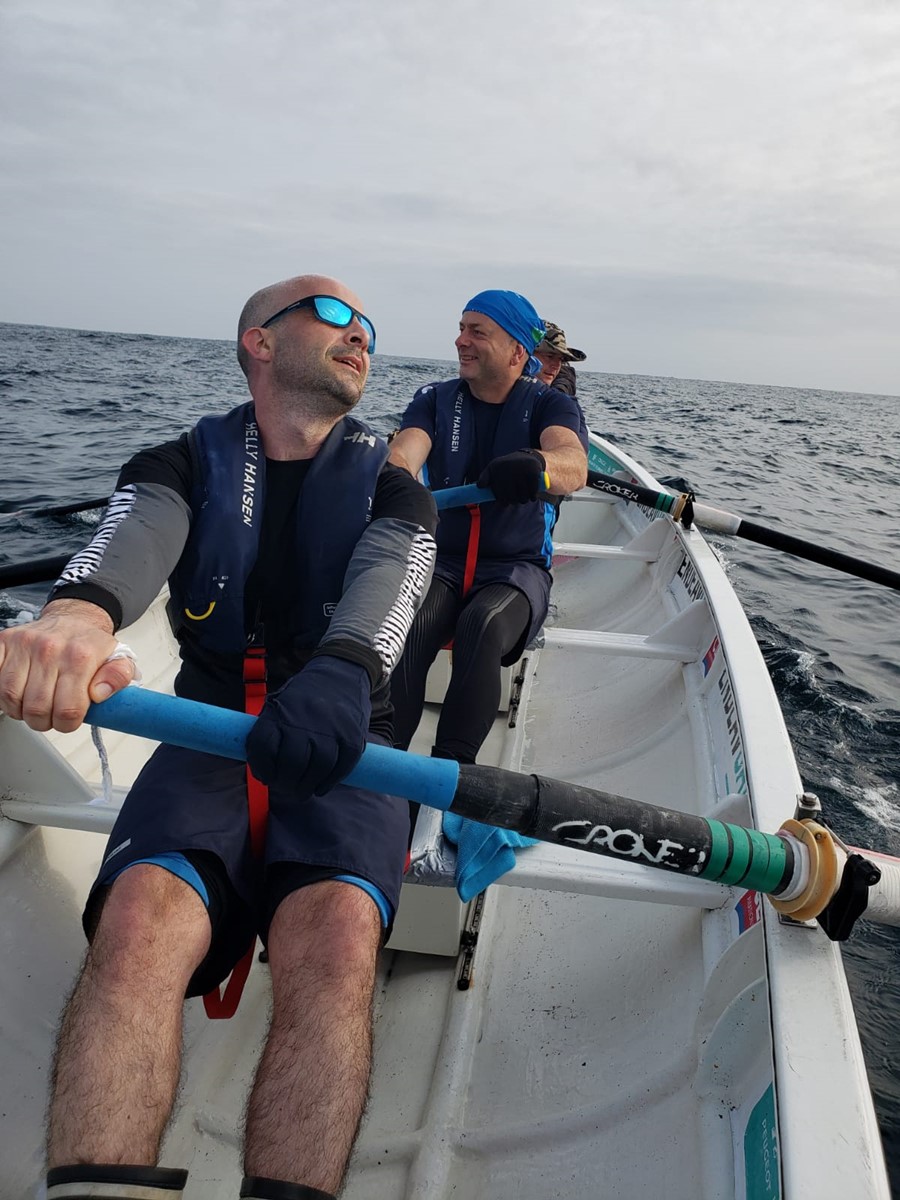 The Airport Police and Fire Service (A.P.F.S) Rowing Club has successfully completed their daring adventure, raising funds for the three daa staff charities, The Alzheimer Society of Ireland, Ronald McDonald House and Cork Life Centre.
The challenge, titled "Endevoar 2023," involved a remarkable 255-kilometer row along the West Coast of Ireland over three days, commencing in Portmagee, Co. Kerry and concluding in Galway City. The event concluded on May 20th, after a gruelling journey that commenced on May 18th.
The formidable rowing crew consisted of twelve individuals, supported by three members on water and three on land. The local boat owners generously provided their services each day, acting as a crucial support system for this extraordinary endeavor. Without their invaluable assistance, this feat would not have been possible.
As part of this exceptional challenge, The A.P.F.S Rowing Club was granted special permission by the OPW to ascend Skellig Michael. The crew was well-prepared and had undergone rigorous training to tackle the dangers associated with rowing on the Atlantic seaboard, while also being treated to breath-taking views of Ireland's iconic landscapes along the way.
The rowing boat, named "Brandon," is a 7-meter Celtic Longboat and accommodates four rowers and a coxswain. The crew underwent regular rotation throughout the day to ensure peak performance. The meticulously planned itinerary for the three-day expedition was as follows:
Day 1 - Thursday, May 18th:
The rowing crew embarked on their journey from Portmagee at 0700, heading southwest towards Skellig Michael. They successfully arrived at 0900 and climbed to the Monastery before descending and continuing their journey northward, passing the Blasket Islands. The day's row concluded at 1830 in Ballydavid, located on the North Coast of the Dingle Peninsula.
Day 2 - Friday, May 19th:
Beginning their row at 0700 from Ballydavid, Co. Kerry, the crew covered an 85-kilometer distance, crossing the waters to Kilkee in Co. Clare. They accomplished their goal and reached Kilkee at approximately 1830, marking another significant milestone in their challenging expedition.
Day 3 - Saturday, May 20th:
Despite fatigue setting in, the resilient crew resumed their rowing at 0700, aiming for Galway. Along the way, they marvelled at the Cliffs of Moher and the Burren, finally entering Galway Bay. The remarkable journey culminated with their arrival at Galway Port at 1900, where they were met with well-deserved applause and admiration.
Reflecting on this achievement, Kenny Jacobs, CEO of daa, stated "I am immensely proud of the remarkable achievements of the Airport Police and Fire Service Rowing Club in successfully completing the Endevoar 2023 challenge. The entire team demonstrated unwavering dedication, commitment, and extraordinary perseverance throughout their rigorous training, fundraising efforts, and extensive travel. Their passion and resilience truly embody the spirit of the daa community.
I would like to express my heartfelt gratitude to everyone who generously donated in support of this incredible endeavor. Your contributions have made a significant difference and will directly benefit the three daa staff charities, enabling them to continue their vital work within our community".
About the Airport Police and Fire Service Rowing Club:
The Airport Police and Fire Service Rowing Club is a dedicated group of individuals who combine their passion for rowing with a commitment to supporting charitable causes. Through their challenging adventures and events, they strive to make a positive impact on the community and raise funds for important organizations.
About daa Staff Charities:
daa's Charities of the Year scheme, which is one of the largest such programmes in Ireland, was established in 2007. It has raised almost €3 million for a total of 27 Irish charities. more than €3.4 million, which has been shared amongst 30 charities.
Employees select the charities that benefit each year before embarking on a wide range of fundraising activities over the course of the following twelve months.