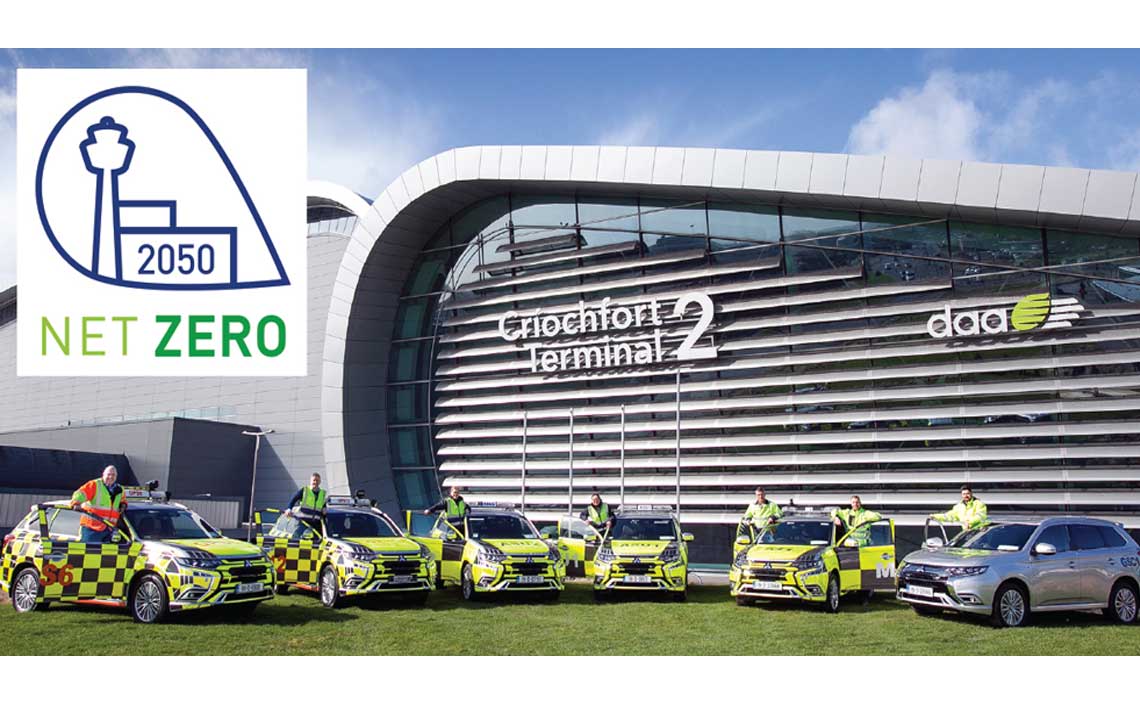 Dublin Airport has today signed a landmark commitment to become net zero for its carbon emissions by 2050 at the latest.
Dublin and Cork Airports made the commitment as part of ACI EUROPE, the trade association for the European airport industry, announcing a new Resolution formally committing the European airport industry to achieve net zero emissions by 2050.
The collective pledge, which was signed by 194 airports, operated by 40 airport operators across 24 countries, marks a significant step change in the climate action ambitions for the airport industry.
The resolution, which was adopted at ACI's annual congress meeting in Cyprus, means that by 2050, Europe's airports will produce no carbon emissions, without using offsets such as buying carbon credits.
daa Chief Executive Dalton Philips said that he was proud to sign the net zero 2050 resolution on behalf of Dublin Airport. "Dublin Airport has invested significantly in environmental management in recent years, but we need to do more and committing to net zero emissions is moving up a gear in our efforts," Mr Philips added.
Dublin Airport is a member of ACI's Airport Carbon Accreditation programme scheme and is certified at Level Two, which means that it has reduced its carbon emissions. "Dublin Airport is committed to being carbon neutral by 2020 and it will have reduced its emissions by 33% compared to 2009 levels," according to Mr Philips.
"We are focused on sustainability across both airports and are introducing more LEV vehicles, switching to LED lighting, reducing our energy and water usage and increasing waste recycling," Mr Philips added. A pilot solar farm project was opened last year which provides more than half the energy to power Dublin Airport's reservoir control system and two further solar farms are planned at the airport.
"We take note of the recent IPCC report and of the shift in public perception of air transport. People are demanding more ambition from government and from business and we are keen to deliver. Net Zero 2050 is not a promise we take lightly, and we are confident that through research and investment, knowledge exchange and partnership, we will be able to identify the best solutions to decarbonise our airport operations."
Patricia Espinosa, Executive Secretary of the United Nations Framework Convention on Climate Change (UNFCCC) said it would work with airports in relation to the new Net Zero 2050 Resolution. "The IPCC Special Report from last October is unequivocal about the need to achieve net zero emissions by mid-century. We need all sectors of society working towards this ultimate goal. It is therefore encouraging to see the airport industry voluntarily raising its ambitions and we look forward to working with this vital sector."
The deadline of 2050 is aligned with the latest IPCC evidence and the decarbonisation strategy set out by the European Commission and adopted by the Council of the European Union.
ACI EUROPE President Dr Michael Kerkloh, who is also Chief Executive of Munich Airport, said that Europe's airports have been leading climate action with annual reductions announced every year for the past decade.
"Forty-three airports have actually become carbon neutral, supported by the global industry standard Airport Carbon Accreditation. However, today's commitment brings a new dimension to this – no offsets. Crucially, with its Net Zero 2050 commitment, the airport industry is aligning itself with the Paris Agreement and the new Climate goal adopted just last week by the EU."
To view a full list of the airport companies that have signed the Zero Net 2050 Resolution, which remains open to further signatories, and the airports they operate, click here.
Image above shows some of Dublin Airport's existing LEV fleet.