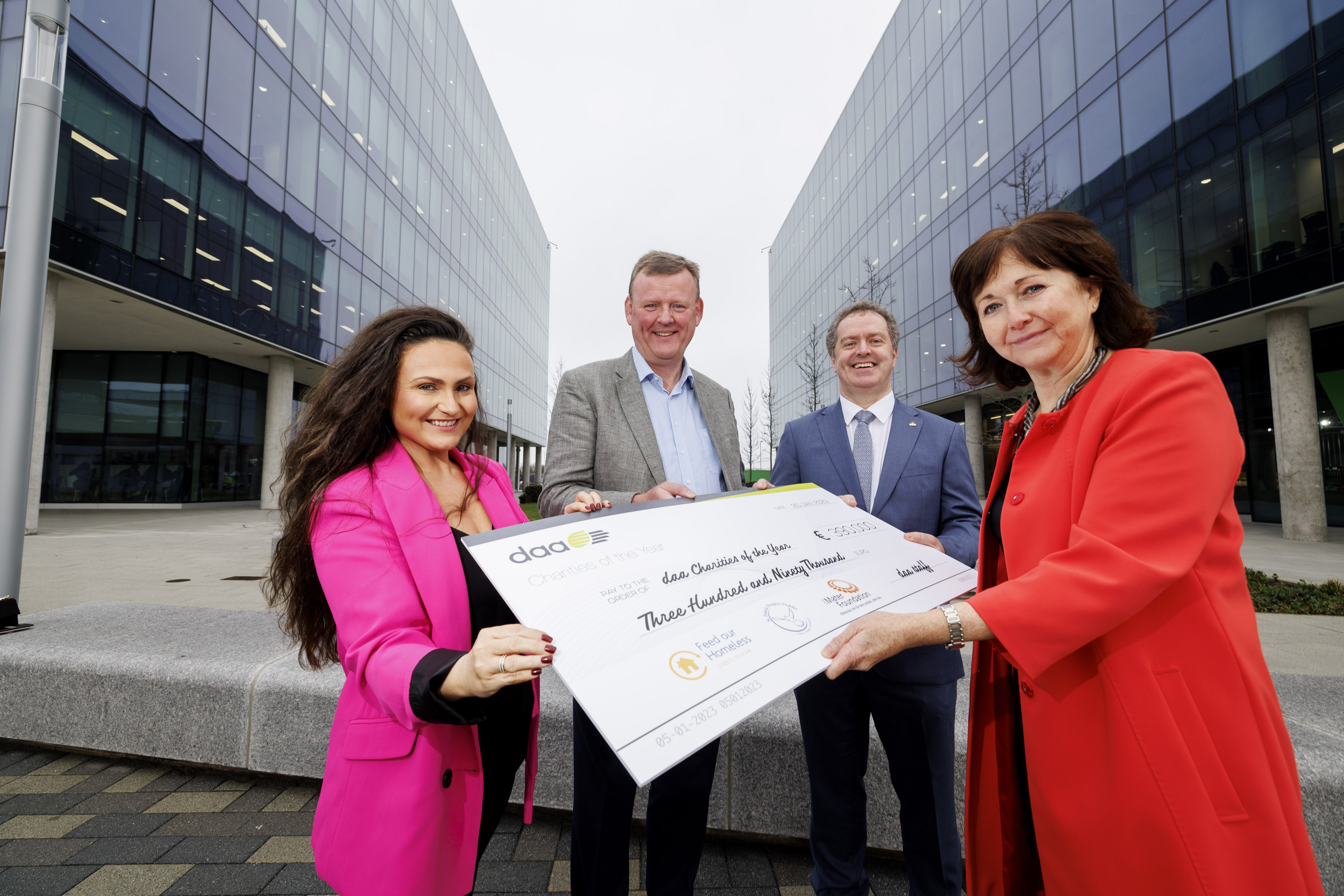 The fundraising efforts of staff at airport operating company daa, supported by passengers at Dublin Airport, saw cheques presented today totalling €390,000 to three charities following a number of successful fundraising activities over the past three years.

The three charities - St. Francis Hospice, The Mater Foundation, Feed Our Homeless – were each presented with a cheque for €130,000 at a special ceremony at Dublin Airport on Wednesday morning.

This takes the total amount raised by daa staff since 2007 to more than €3.4 million, which has been shared amongst 30 charities.

The money was raised via daa's Charity of the Year scheme, which is managed by staff of the company. Employees select the charities that benefit each year before embarking on a wide range of fundraising activities over the course of the following twelve months.

Due to reduced passenger numbers, and an increase in the number of staff working from home as a result of Covid19 safety measures, daa staff voted unanimously to extend the fundraising activities for charity partners selected in 2020 until the end of 2022.

Since 2020, daa staff raised the money for the three charities through a series of events, with daa itself also making a significant contribution to the fund. Passengers and members of the public also support the scheme by donating at collection points located throughout the airport.

daa's Charities of the Year scheme is one of the largest such programmes in Ireland.

According to daa Chief People Officer Brian Drain: "The daa team takes huge pride in the Charity of the Year initiative and we are extremely proud to be handing over such a substantial amount to our three very-deserving charities. The €390,000 raised will make a real difference to people's lives, and on behalf of our three charity partners I would like to thank our staff and passengers who so generously contributed to the charity fund over the over the past three years."

Speaking at the ceremony after being told how much had been raised for his charity, Fintan Fagan, CEO of St Francis Hospice: "A donation of €130,000 is one of the largest ever received by the St Francis Hospice. We're going to put this money towards building a new hospice in Raheny. We have ambitious plans to build a new single floor, 24-bed hospice which will provide extra space for patients and families. Planning permission is due to be lodged soon and we hope to be in the building in 2024."

According to Mary Moorhead, CEO of The Mater Foundation: "I want to express my sincere thanks to each and every member of staff at daa. This funding will make a huge difference to our patients and staff at the Mater public hospital."

Natasha Morgan, Co-Founder of Feed Our Homeless, said: "Feed Our Homeless is only six years old, so this money will make a massive different for the service we provide. Our services are focused on three areas: the prevention of homelessness, intervention and the exit aspect. The services we currently provide mainly target the intervention aspect of homelessness, but this will allow us to look more at the prevention side too."

Following a rigorous selection process over recent months, daa staff have voted for three new charities to support in 2023 with all moneys raised this year to be donated to The Alzheimer Society of Ireland, Ronald McDonald House and Cork Life Centre.