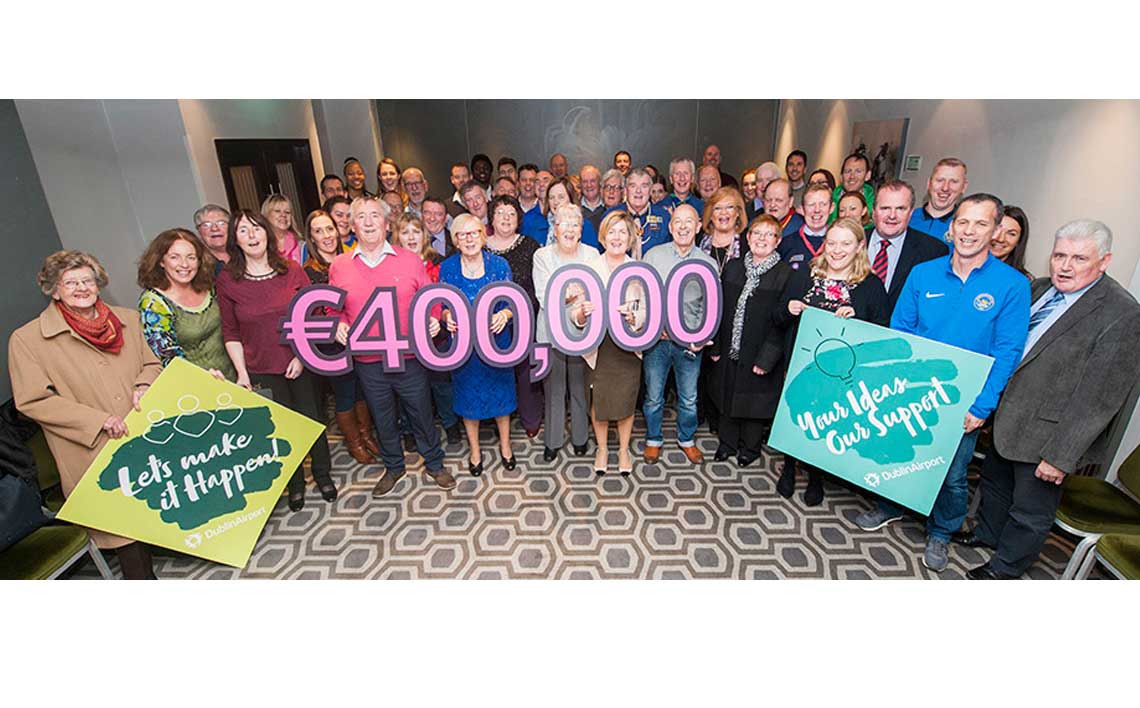 Dublin Airport's Community Fund received almost 70 applications from eligible neighbouring communities including Santry, Rolestown, Tyrrelstown, St. Margaret's and Portmarnock.
This is the second round of applications to be assessed since the new €10 million Community Fund was launched in 2017.
Dublin Airport's Community Fund is investing €400,000 per year over the next 25 years in local projects focused on areas such as environment and sustainability, sports and recreation, social inclusion and community development, health and wellbeing, and culture and heritage.
"It's inspiring to see the broad range of community projects that are happening across our neighbouring communities," said Dublin Airport's Community Liaison Manager, Maura Cassidy. "Our Community Fund can make a real difference to the small and large projects that being put forward by community groups. We're looking forward to assessing the applications in further detail and announcing the successful ventures in the coming weeks," she added.
The independent Grant Making Panel, chaired by Marian Burns, Director of Human Resources with DCU, will now begin the process of assessing applications with the aim of awarding funding in early summer.
The other members of the Grant Making Panel are: Michael Hoey, Managing Director, Country Crest, Guy Thompson, former President of Fingal Dublin Chamber of Commerce and General Manager Castleknock Hotel and Country Club, plus two Dublin Airport representatives Brian Drain, Chief People Officer and Louise Bannon, Head of Marketing.
Full details of successful applications will be announced by the end of April and the fund will reopen for its next round of applications in September 2018.
A total of 60 community groups shared €400,000 from the first allocation from Dublin Airport's new €10 million Community Fund last year.
The organisations that were funded comprised 43 successful applicants and 17 groups which were previously supported by Dublin Airport in a multi-year agreement which are backed by the Fund as part of a transition arrangement.
The Fund is also supports up to 10 students per year from economically disadvantaged backgrounds to enable them to attend Dublin City University (DCU) via its Access Programme.
The Community Fund is just one of a number of ways in which Dublin Airport makes a positive contribution to its neighbouring and society in general.
Dublin Airport is a major economic generator, facilitating almost 120,000 jobs nationally bringing huge benefits to the local community and contributing €8.3 billion annually to the Irish economy.
Many of the 19,000 people who work on the airport campus, not just for daa, but also for all of the other businesses that are located at the airport, are drawn from neighbouring communities. The employment opportunities provided at the airport are vital to the economic well-being of the local community.
Dublin Airport's long-established charity of the year initiative has raised more than €2.3 million for 21 Irish charities. This year's charity partners, chosen by Dublin Airport staff, are the Irish Motor Neurone Disease Association, the LauraLynn Foundation and Swords-based charity Snowflakes Autism Support.