Hand Baggage
Please check all of your hand baggage items meet our security requirements.
The following section contains information guidelines on:
Hand baggage for airport security screening
Check-In luggage forbidden items
Hand Baggage Screening
We would remind all passengers that each airline has their own policy regarding hand baggage allowance and we strongly recommend that information regarding this is sought directly from the airline before travel. We advise you to only place valuables and items required for the flight in your hand baggage. All hand baggage will be subject to x-ray screening when going through Security. To ensure you are ready and can pass through Security as quickly as possible please note the following:
Screening Preparation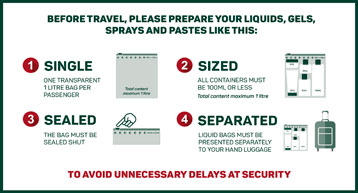 If carrying liquids, please present your liquids, gels and pastes in a single, sized (maximum one litre worth of contents) and sealed plastic bag that is separate to your hand luggage.
There are free plastic bags available before you go through Security.
Place laptops and large electrical items separately in a tray.
Keep coins, keys, mobile phones and other small items in your coat or hand baggage.
If you need to remove jewellery, please put it in your bag rather than into the tray as it could be mislaid.
Place your hand baggage and coat into a tray.
Pushchairs, wheelchairs and walking aids will be thoroughly hand searched and will be subject to further screening
EU Liquid Regulations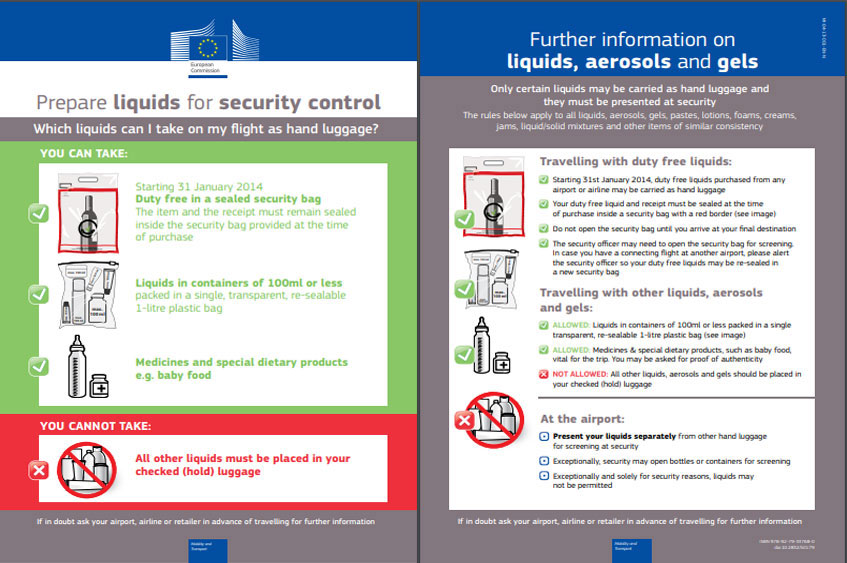 Prohibited Hand Baggage Items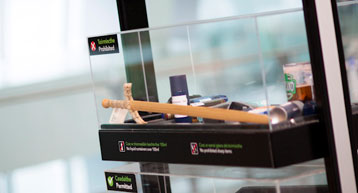 You are not permitted to carry certain items on board with you.
These are specified in a list of prohibited articles compiled by the EU.
Security staff reserve the right to refuse permission to carry other items on board at all times for reasons of safety.

List of Prohibited Articles PDF 88 KB
The following should not be carried in hand baggage:
Checked Baggage List of Prohibited Articles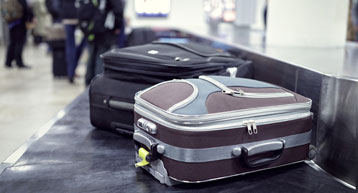 Passengers are not permitted to carry the following articles in their hold baggage:
Explosives and incendiary substances and devices capable of being used to cause serious injury or to pose a threat to the safety of aircraft, including:
Ammunition
Blasting caps
Detonators and fuses
Mines, grenades and other explosive military stores
Fireworks and other pyrotechnics
Smoke-generating canisters and smoke-generating cartridges
Dynamite, gunpowder and plastic explosives

For a printable version of this list, please download the checked baggage list of prohibited articles below.
Checked Baggage List of Prohibited Articles PDF 59 KB