Hand Baggage
The following section contains information guidelines on:

Hand baggage for airport security screening
Check-In luggage forbidden items
Please check all of your hand baggage items meet our security requirements.
Hand baggage screening
We would remind all passengers that each airline has their own policy regarding hand baggage allowance and we strongly recommend that information regarding this is sought directly from the airline before travel.
We advise you to only place valuables and items required for the flight in your hand baggage.
All hand baggage will be subject to x-ray screening when going through Security. To ensure you are ready and can pass through Security as quickly as possible please note the following: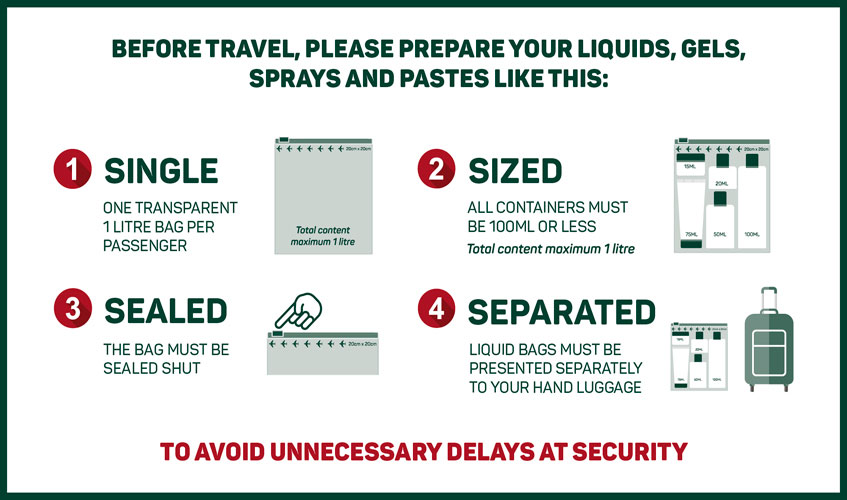 Screening preparation
Size it: containers of max 100m
Bag it: only 1 x 1 litre clear plastic bag per person
Separate it: a sealed bag separate from hand baggage
There are free plastic bags available before you go through Security.
If you have allowed liquids of plus 100ml, such as baby milk, medicine or special dietary liquids, please ask a Security Officer for an allowed liquids tray.
Take laptops and electrical items out of their bag/cover and place them separately in a tray.
Keep coins, keys, wallets, mobile phones and other small items in your coat or hand baggage or place them directly into the tray.
Place your hand baggage and coat into a tray..
Any oversized garments, which may conceal additional items or the outline of your person, will have to be removed for Security screening. Please remove the top, be it an over-sized hoodie, jumper, jacket or sweater and place in the tray for screening.
Any shoes, runners or boots that are at ankle height or higher, such as runner boots or sock boots, will have to be removed, to place in the tray for Security screening.
If you need to remove jewellery, please put it in your bag for safe keeping.
Ideally no sharp objects, however small items of less than 6cm in size are allowed eg, a small nail scissors.
Pushchairs, wheelchairs and walking aids are allowed through screening, please ask a Security Office for assistance.
EU liquid regulations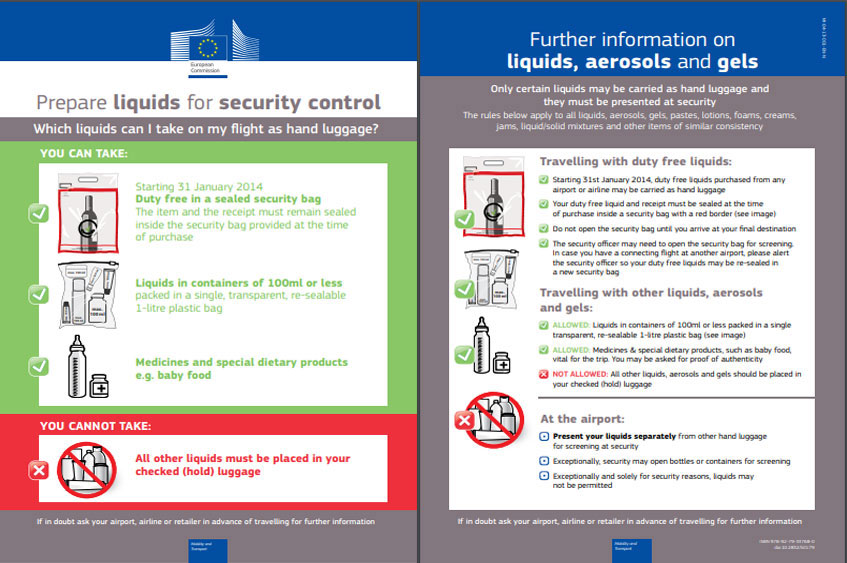 Prohibited hand baggage items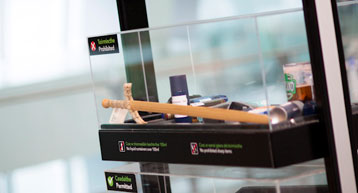 You are not permitted to carry certain items on board with you.
These are specified in a list of prohibited articles compiled by the EU.
Security staff reserve the right to refuse permission to carry other items on board at all times for reasons of safety.

The following should not be carried in hand baggage
Link will open in a new window

List of Prohibited Articles PDF 88 KB