By Taxi
Passengers arriving by taxi will be dropped off on the forecourt directly outside either Terminal 1 or Terminal 2.
*Please note taxis are currently only available for hire at the forecourt directly outside Terminal 1. Passengers should follow taxi signage from Terminal 1 and Terminal 2 to the taxi rank in Terminal 1. A taxi dispatcher is available at the taxi rank in Terminal 1 if you require any further information or assistance.
COVID-19 Safety Measures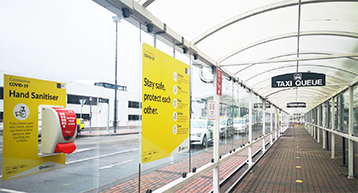 New measures have been put in place at the taxi rank in Terminal 1 for your safety and protection:
Hand sanitiser units have been installed at the rank. We ask that you please sanitise your hands before and after taking a taxi.
Please follow the floor markers that have been put in place at the taxi rank to maintain social distance between passengers who are queuing for a taxi.
Taxi Passenger Entitlements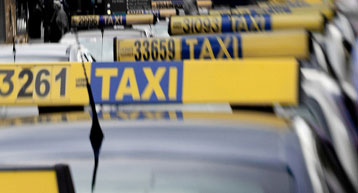 As a passenger in a taxi you are entitled to:
Engage a taxi for journeys up to 30km.

Have all fares calculated on the taxi meter.
A receipt printed by the taximeter.
A clean vehicle and a pleasant journey.
Display of Fare Information

All licensed taxis are obliged to display passenger information including rights and responsibilities and fare information, which will be supplied by the Commission for Taxi Regulation, in the front and back of the vehicle. All licensed taxi drivers must display their driver identification card in clear view of the customer.
Taxi Fare Complaints
In the event of a dispute about a fare, driver conduct, condition or cleanliness of a vehicle, a customer should pay the fare displayed on the meter including extras, ensure they get a printed receipt and proceed to make a formal complaint which will be investigated by the Commission for Taxi Regulation as appropriate.
If you wish to make a formal complaint, please request a complaint form by ringing the National Transport Authority Information line on + 353 76 1064000. For more information please click here.